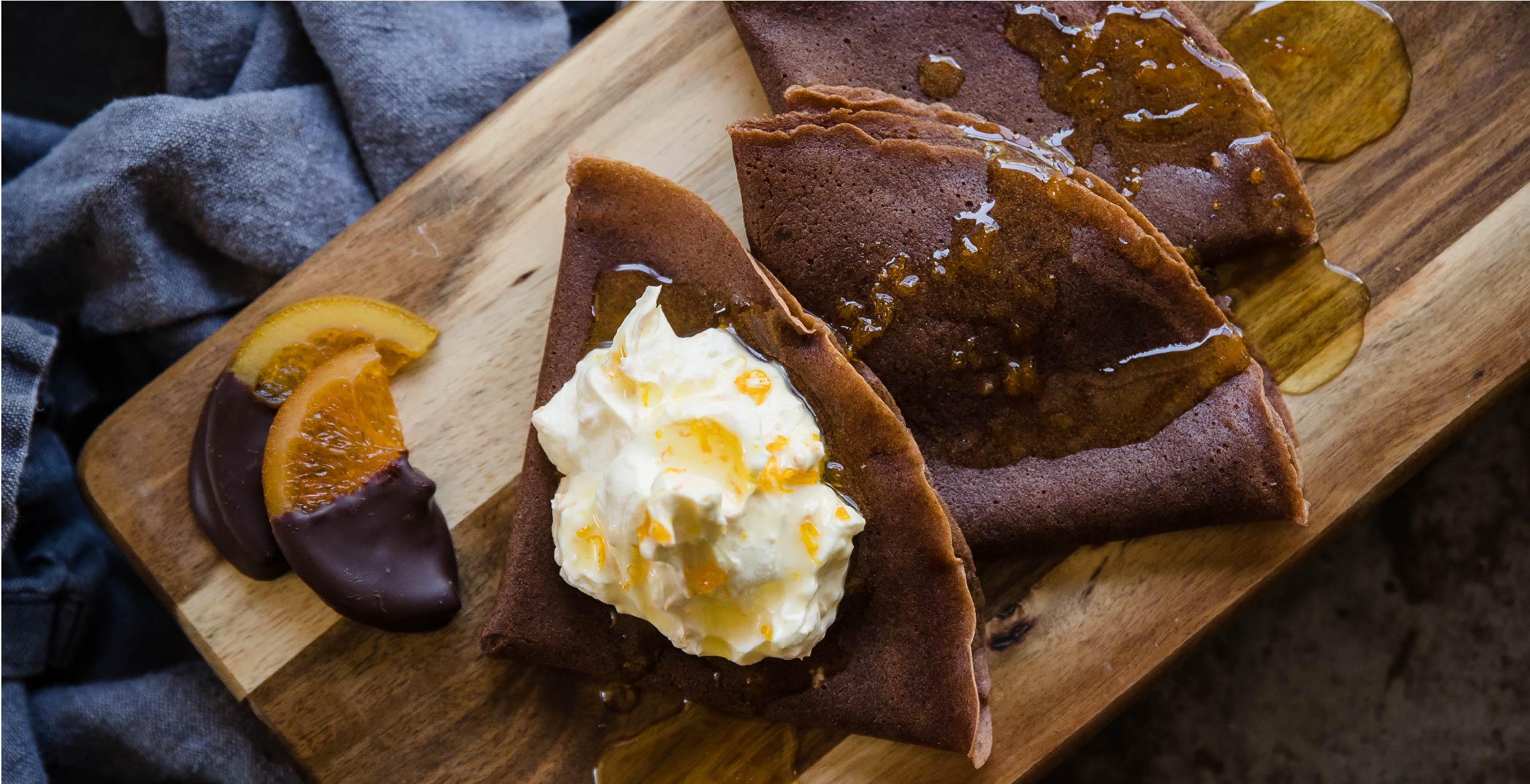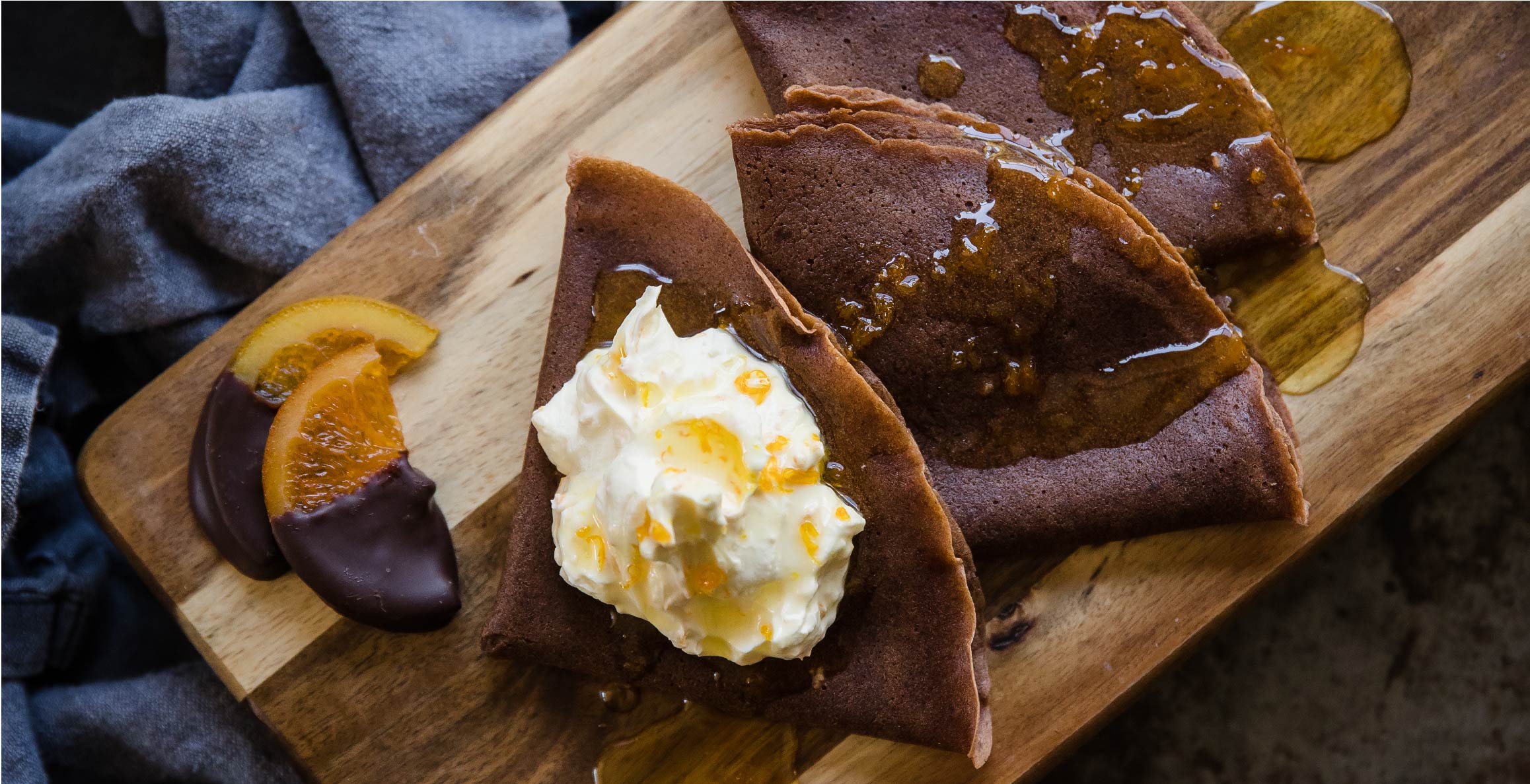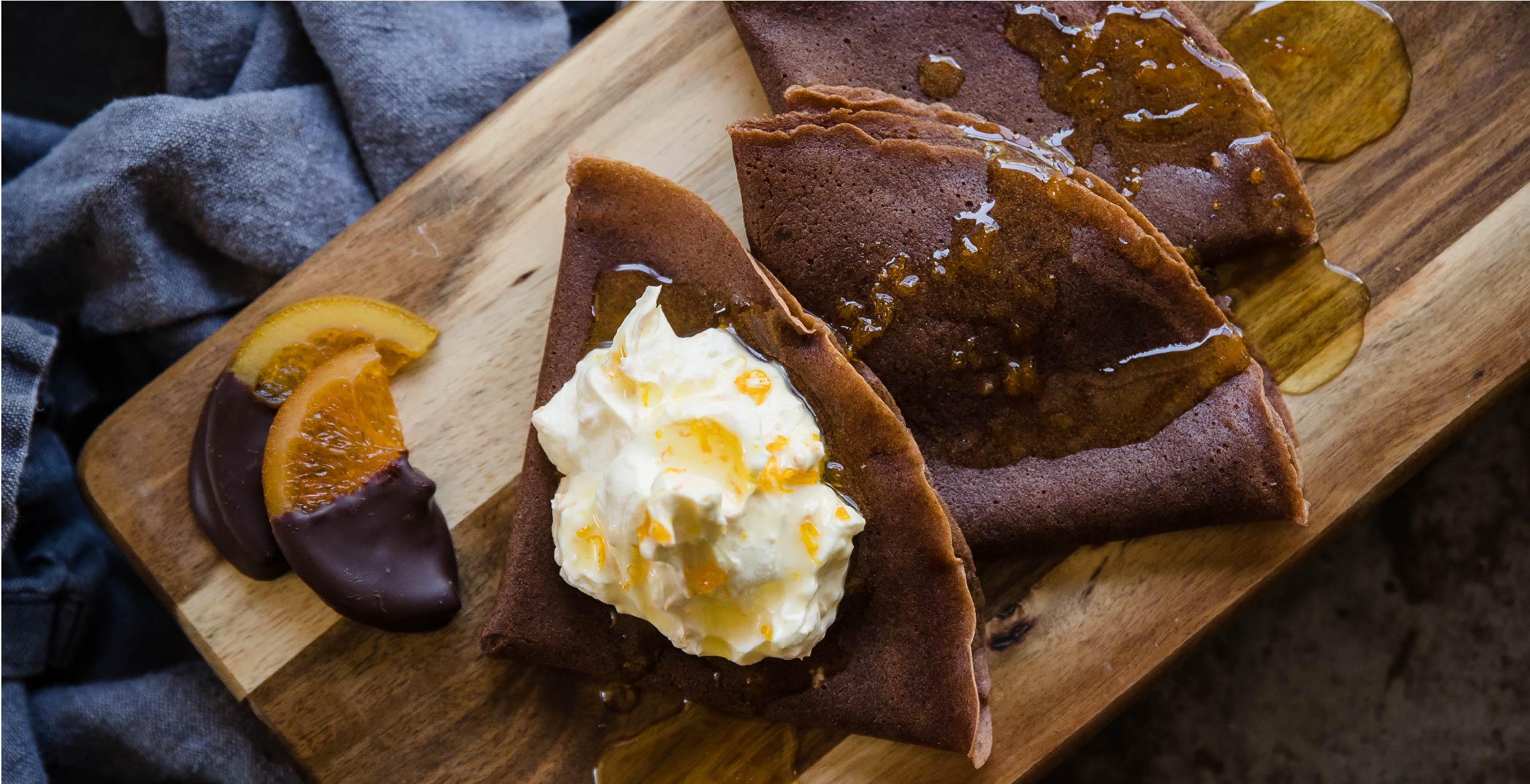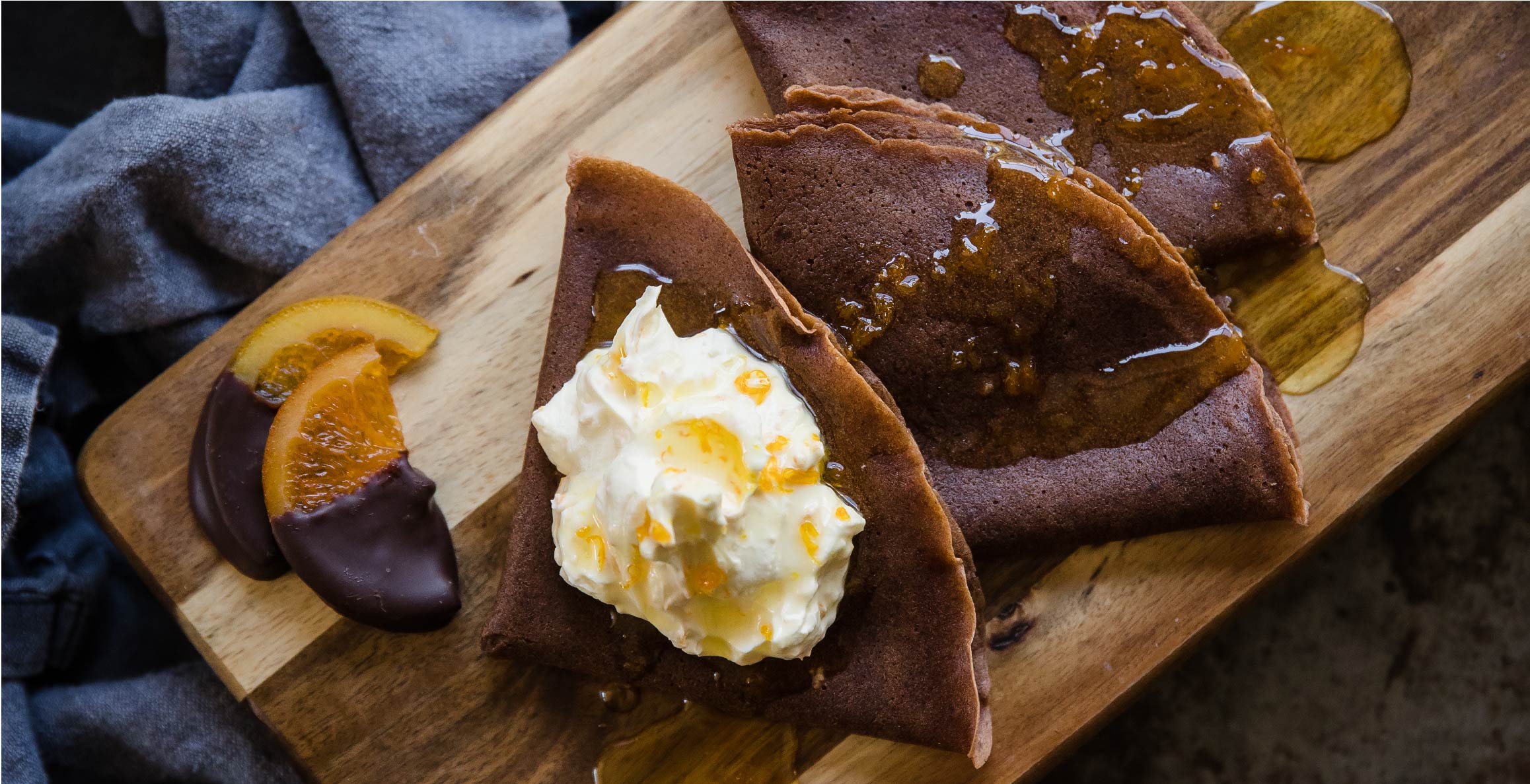 Ingredients
| | |
| --- | --- |
| Crepes | |
| 4 Large Eggs | |
| 250ml Cold Milk | |
| 170ml Cold Water | |
| 200g Plain Flour | |
| 25g Koko Black Cocoa Powder | |
| 50g Caster Sugar | |
| 5g Salt Flakes | |
| 60g Melted Butter | |
| 1 Vanilla Bean Pod | |
| 1 Tablespoon Butter to grease pan | |
| Syrup | |
| 1 Orange | |
| 200g Caster Sugar | |
| 160ml Fresh Orange Juice | |
| 80ml Water | |
| Cream | |
| 300ml Thickened Cream | |
| 1 Tablespoon Orange Zest | |
For that extra little indulgence, finish with Koko Black 54% Dark Chocolate Shavings
Method
STEP 1
Getting Started; you'll need a stand mixer, small saucepan, 24cm frypan, mixing bowl and whisk
STEP 2
Add eggs, water, milk, flour, cocoa powder, sugar, salt and vanilla (seeds scraped out of vanilla bean pod) to a stand mixer and mix for 1-2 minutes until smooth. Add butter and then mix for a further 30 seconds. Set aside to rest for 20-30 minute.
STEP 3
preheat crepe pan. Grease pan with small amount of butter, Pour 1/3 cup (80ml) of batter into the pan and swirl batter until covering pan. Cook for approximately 1 minute on medium and then flip and cook for another 20-30 seconds. (let's be honest unless you flip it with one hand straight out of the pan it's cheating) Stack on plate once each crepe is finished cooking. Repeat until batter runs out, should make between 8-10 crepes.
STEP 4
To make the orange syrup, use a zester to remove the rind from the orange. Stir the orange zest, sugar, orange juice and water in a small saucepan over low heat for 5 minutes or until sugar is dissolved. Increase heat to high and bring to the boil and cook for 2-3 minutes stirring until mixture thickens.
STEP 5
You can cheat and use your stand mixer again but I prefer to do this next part my hand as it's easier to get the consistency you want. Pour cream into a metal bowl and whisk until soft peaks form, then fold in table spoon of orange zest. (I prefer soft peak cream, but you can do whatever you like here)
STEP 6
Take your stack of crepes and fold into quarters and arrange a row on a plate, you can have 3-4 per plate, add 1 or 2 dollops of the orange cream and then drizzle with orange syrup. Finally, sprinkle some Koko Black 54% Dark Chocolate Shavings on top.
STEP 7
Surprise someone with these amazing Crepes for breakfast in bed… maybe mum??