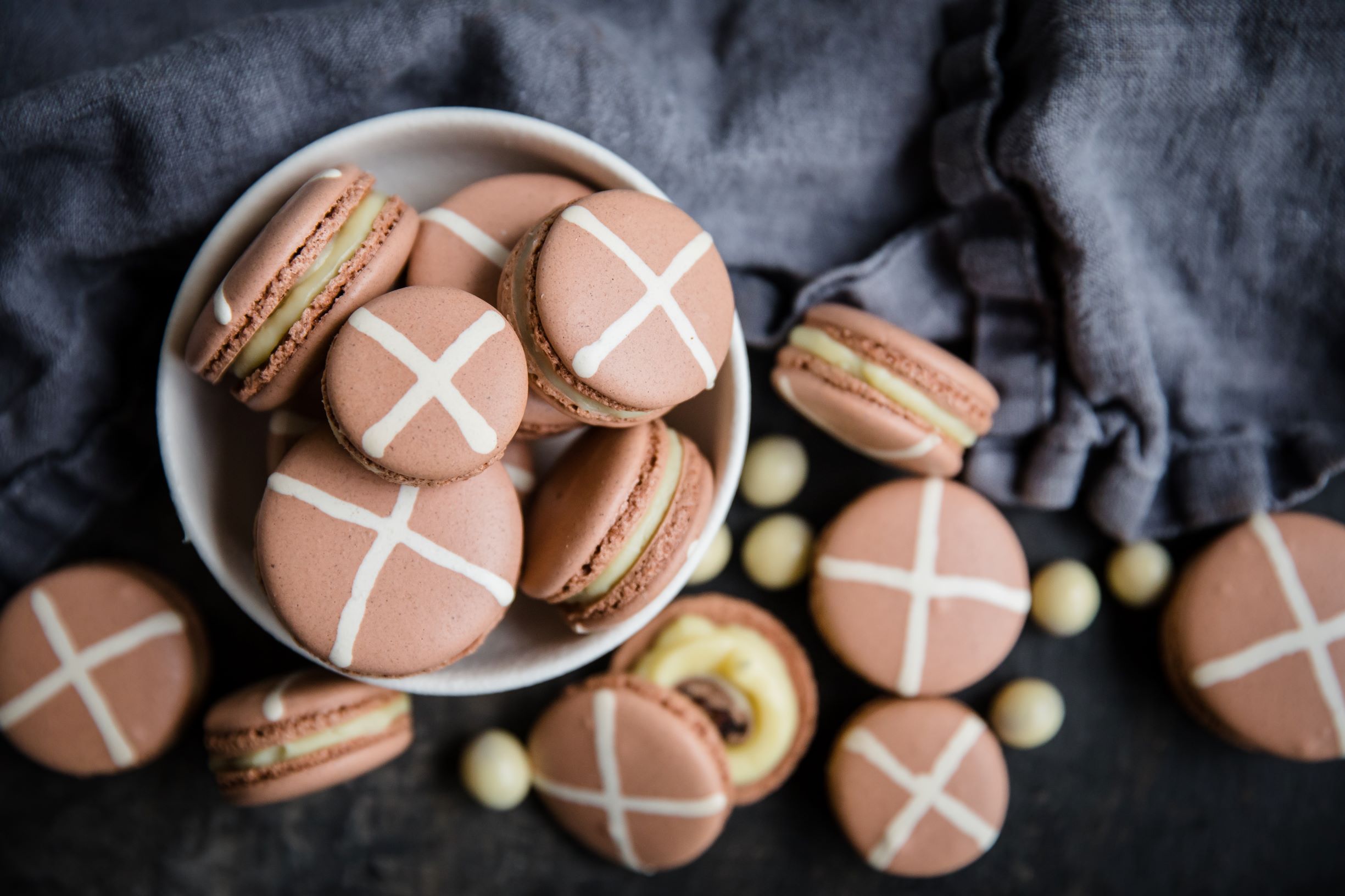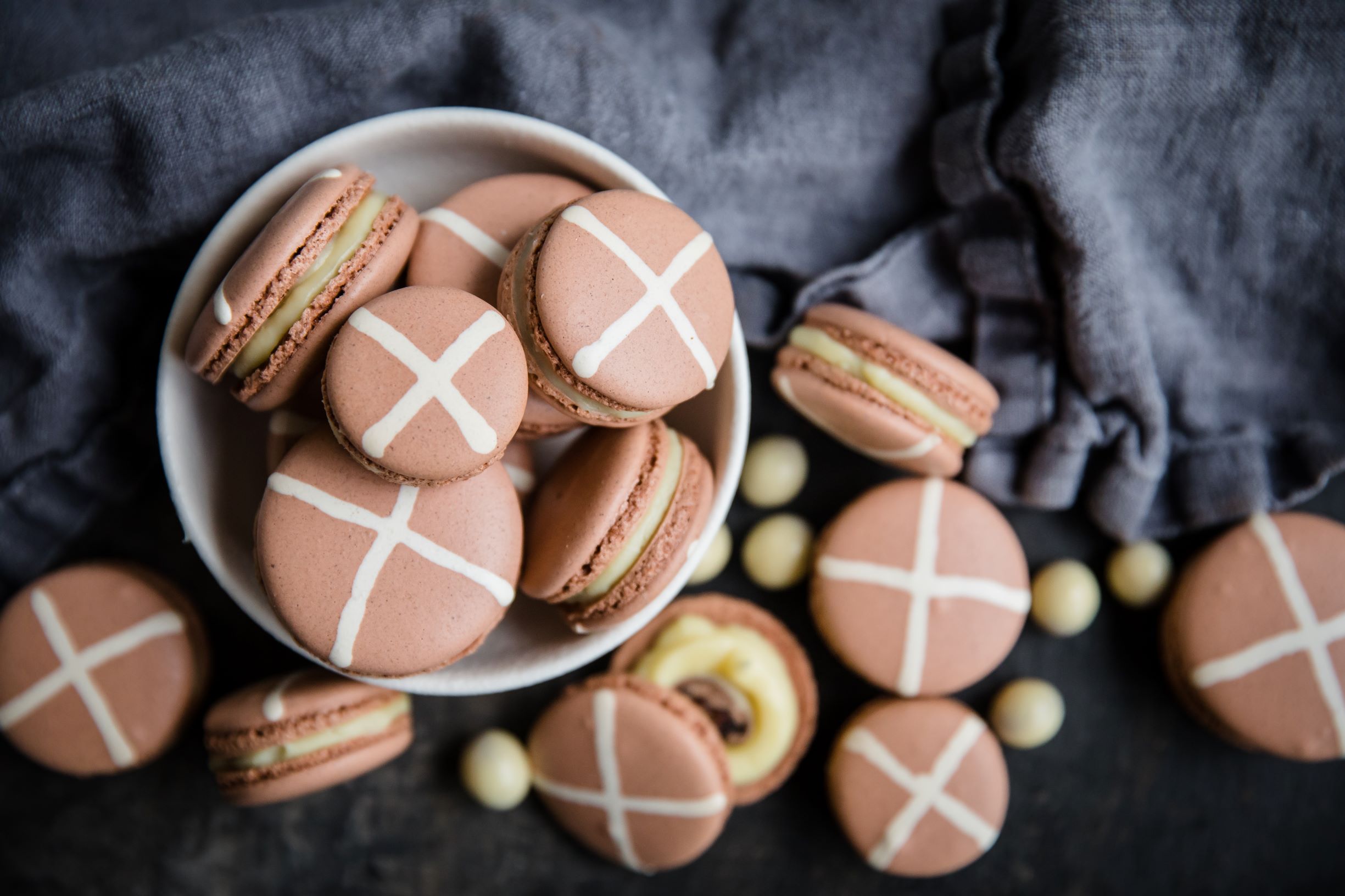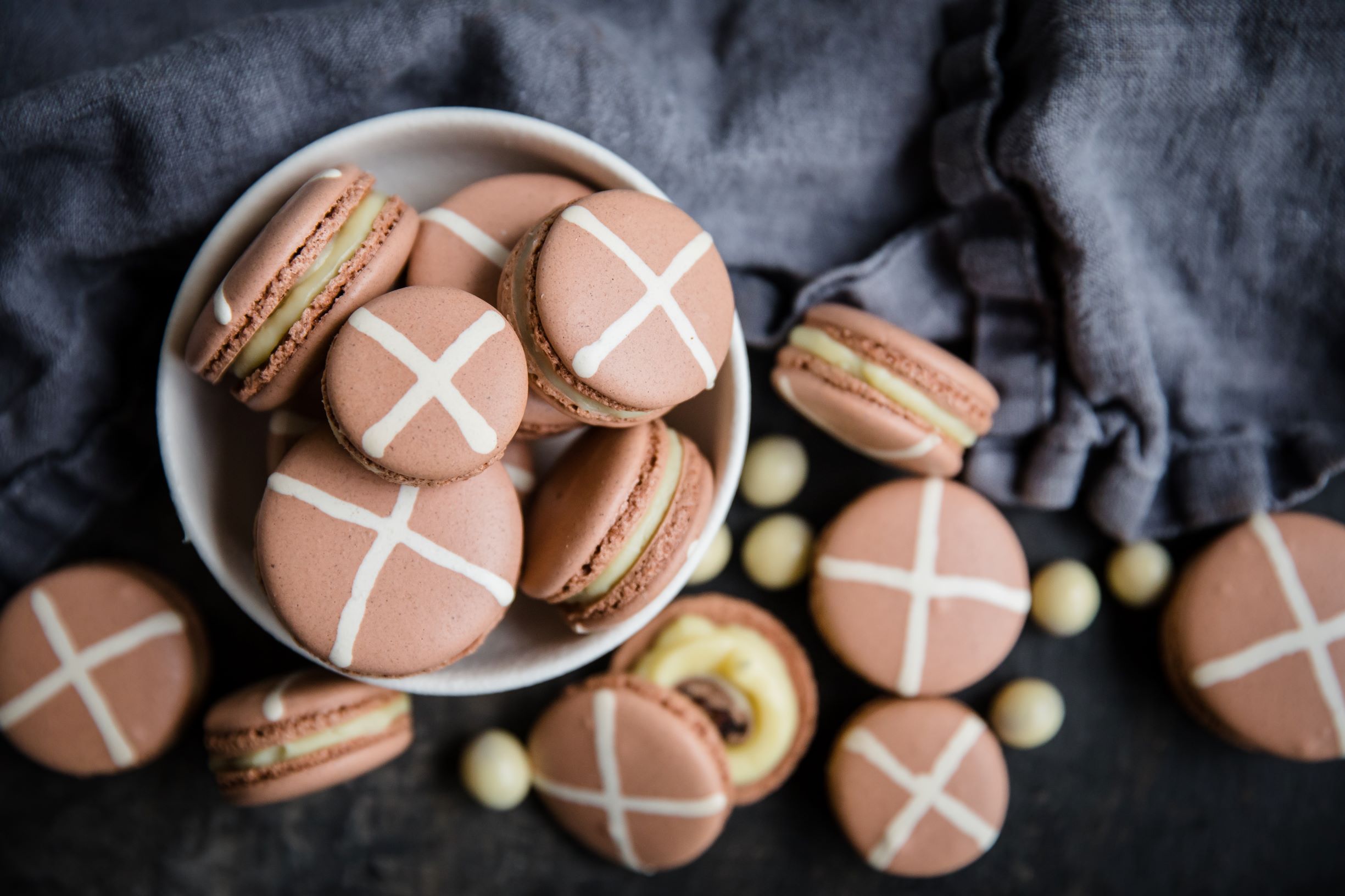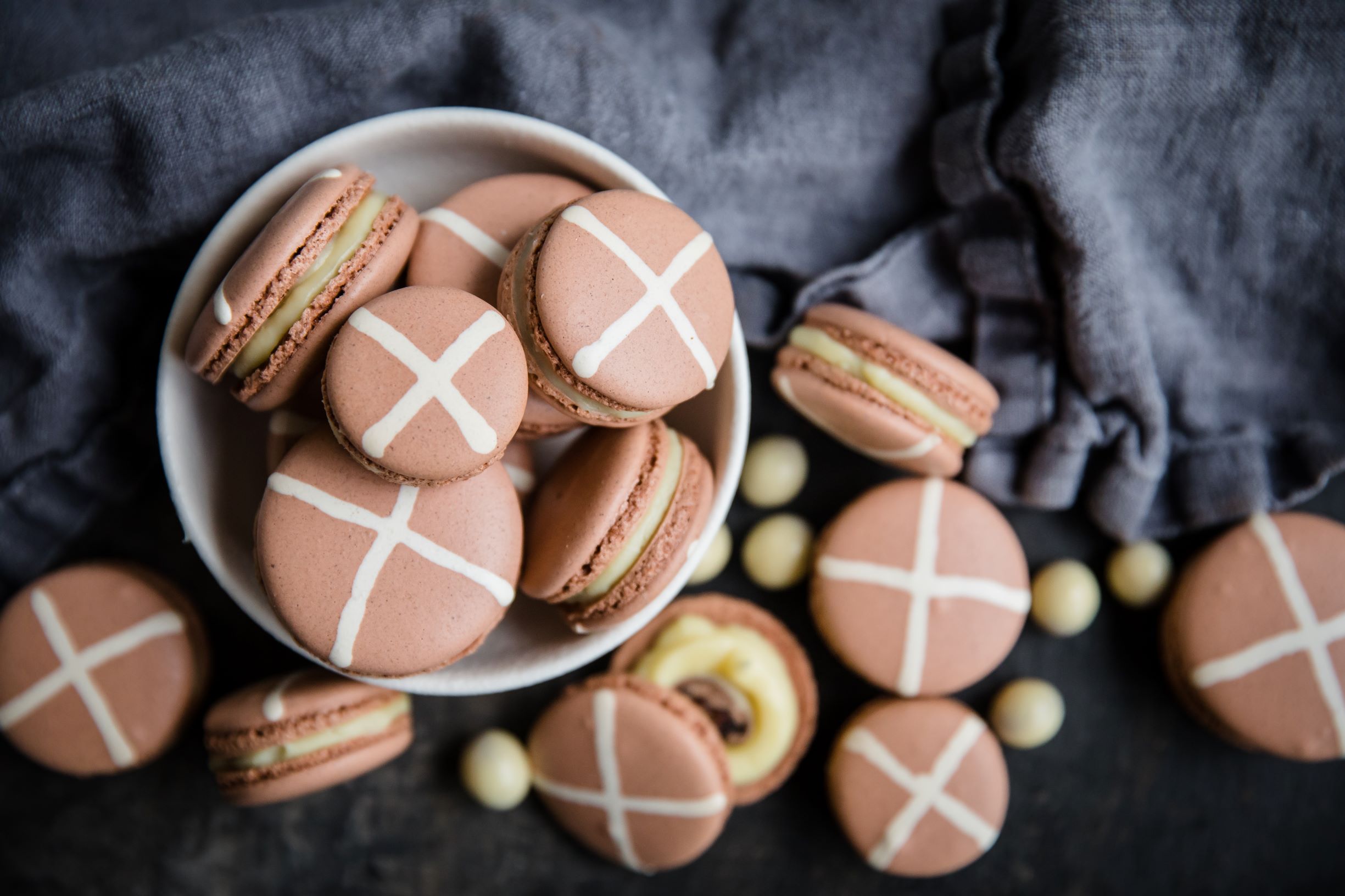 60 - 90 minutes

Makes 40

Intermediate
Method
STEP 1
Getting Started; you'll need 2 or 3 x silicon mats, piping bags x2, piping tips no 1 & no 8, trays, then set your oven to 150 degrees.
STEP 2
Macaron Shells; combine your almond meal and icing sugar in a food processor, you are looking for a really fine consistency of the almond meal and icing sugar, you will then sift twice and process again in between to ensure you get a really fine end product.
STEP 3
In a saucepan combine water and sugar, then bring to the boil allowing the syrup to reach 115c, as this is happening whisk half your egg white mixture in a stand mixer until soft peaks form, once this happens slowly drizzle in sugar mixture and turn mixer up full ball for around 10 minutes. What you are left with is a super shinny mixture ready to create your shells.
STEP 4
From your almond mix take out a small amount of approx. 50g, with this take 10g of egg white mixture and mix together, this will form a sticky batter, once this is well and truly combined add a heaped teaspoon of your meringue mixture and mix through, this will loosen the batter, once this is done add another heaped tablespoon of your meringue and mix. (don't over mix as it will become too runny). With this white mixture sit it aside to use later on for the cross on top of your macaron.
STEP 5
Combine remaining almond mix, Cocoa, Cinnamon, Nutmeg (and here you can add a little brown food color to make sure you get the Hot Cross Bun look) with remaining egg white and mix until fully combined, mix a little meringue mixture in with the batter to loosen it up and then fully combine and again you are looking for a nice consistency here (again don't over mix as it will become too runny).
STEP 6
Piping; set out your silicon mats (or use baking paper with circles drawn as a guide for what size you want your macarons), here use a large piping bag with number 8 nozzle and pipe the cocoa mixture onto your trays, ensuring to keep the sizes consistent. Once you have piped all the bases you'll need to get the second piping bag with number 1 nozzle and pipe the white mixture you set aside earlier, you can pipe the white mixture as the cross on top of your macaron, do this for half of you shells so you will have a top and a bottom.
STEP 7
Set aside and allow skin to form, allow roughly 60 minutes depending on the humidity in your kitchen, you should be able to lightly touch the shell without any sticking to your finger.
STEP 8
White Chocolate Ganache; heat cream and sugar until it comes to boil and pour over white chocolate, let this sit for around 5 minutes, then stir the mixture until it all comes together, then stir in butter until melted and then place in fridge until required.
STEP 9
Cooking; bake macarons 1 tray at a time for 14 minutes at 150 degrees longer if required to ensure feet don't stick to the mat when you are removing them to cool. One all your shells are cool, match up the tops and bottoms so you have matching sizes ready for the final step.
STEP 10
Constructions; get some Koko Black Hot Cross Bites and cut them in half as these make a great addition to the center of your Hot Cross Macarons.
STEP 11
Place you white chocolate ganache from the fridge into a piping bag, then take the bottom half of your shell and pipe in some of your ganache, placing half a bite in the center and then place the top of the shell on, the amount of ganache should give you a perfect little ooze out the side and sit perfectly. Repeat this for all your remaining shells and then enjoy your hot cross bun macarons.