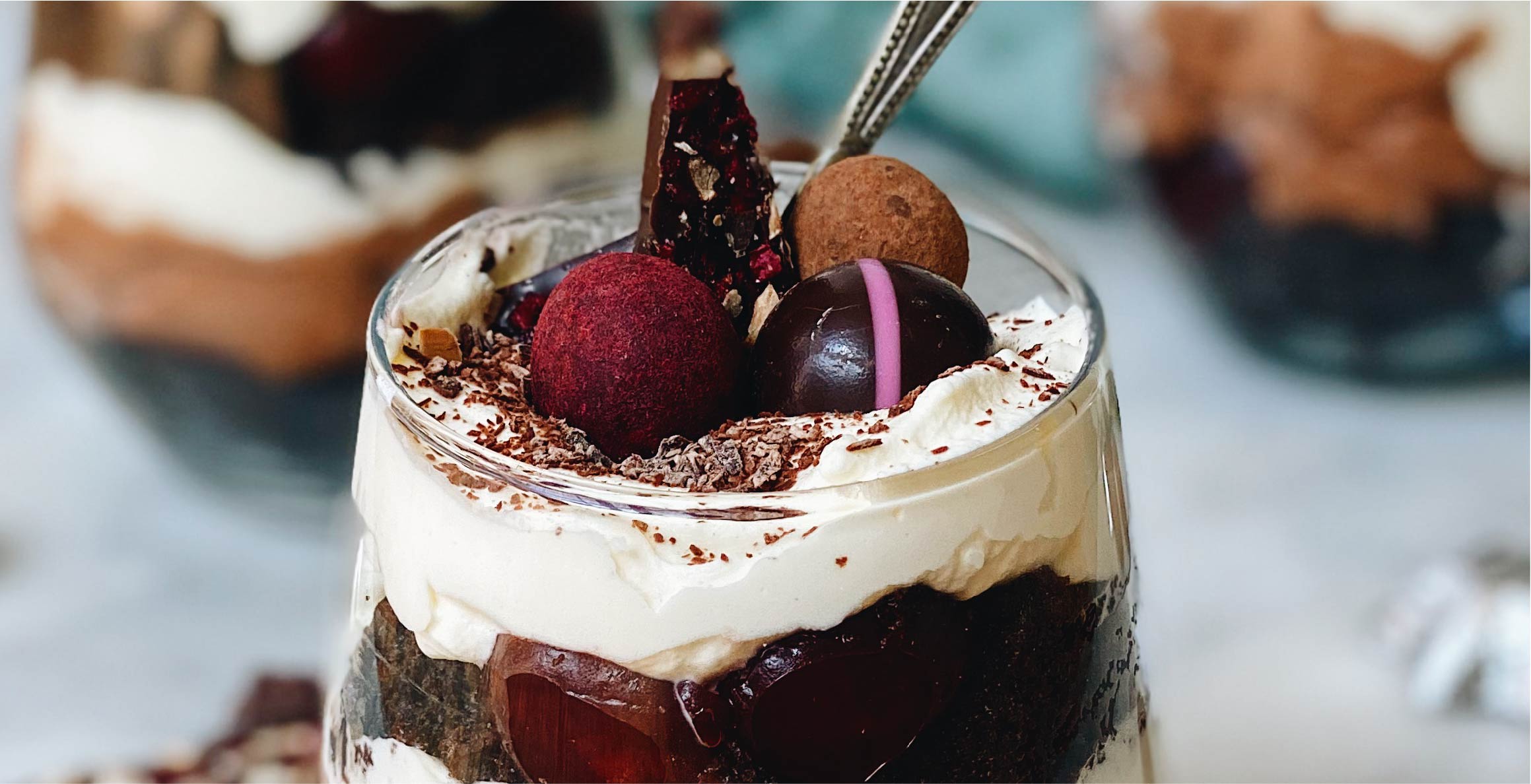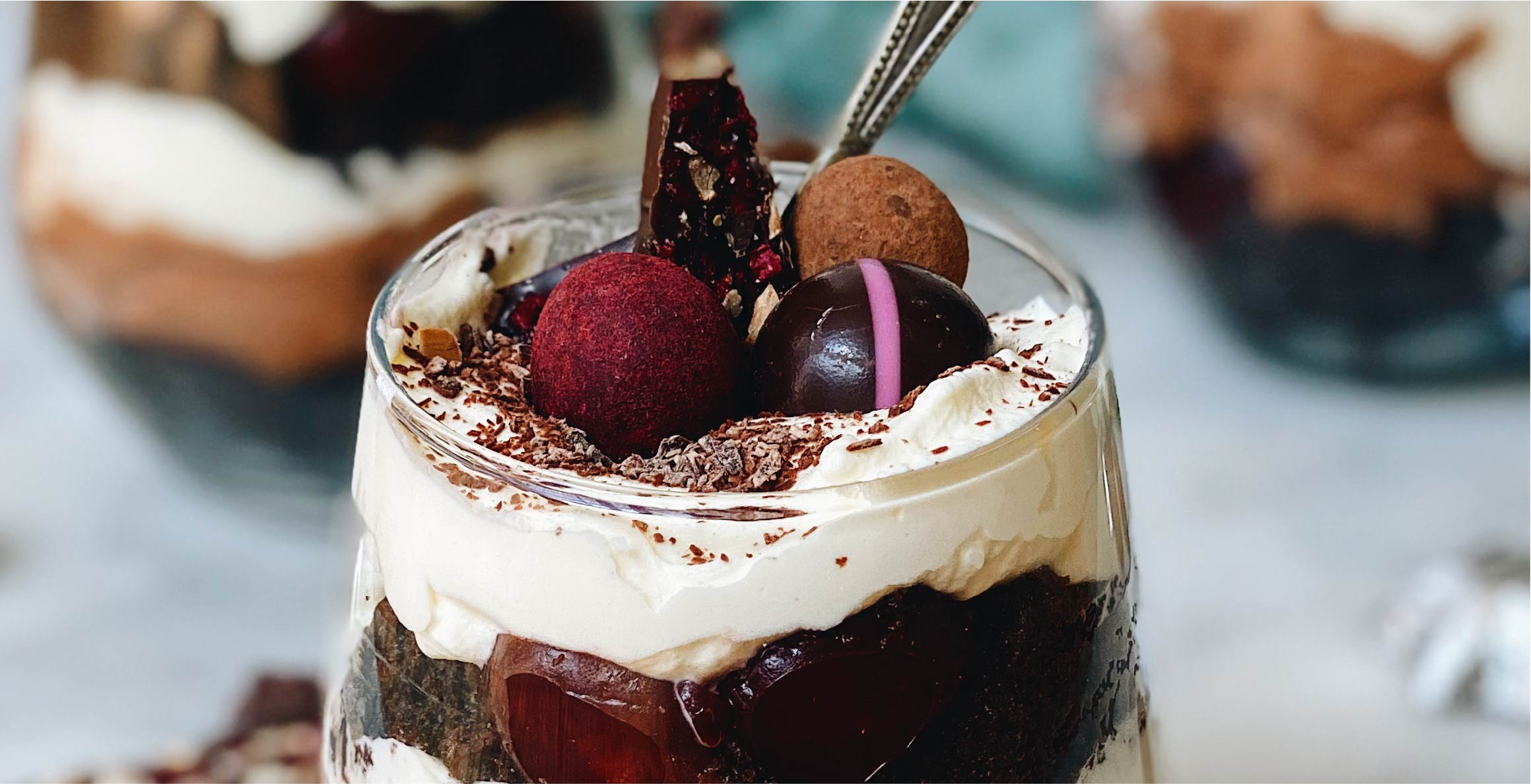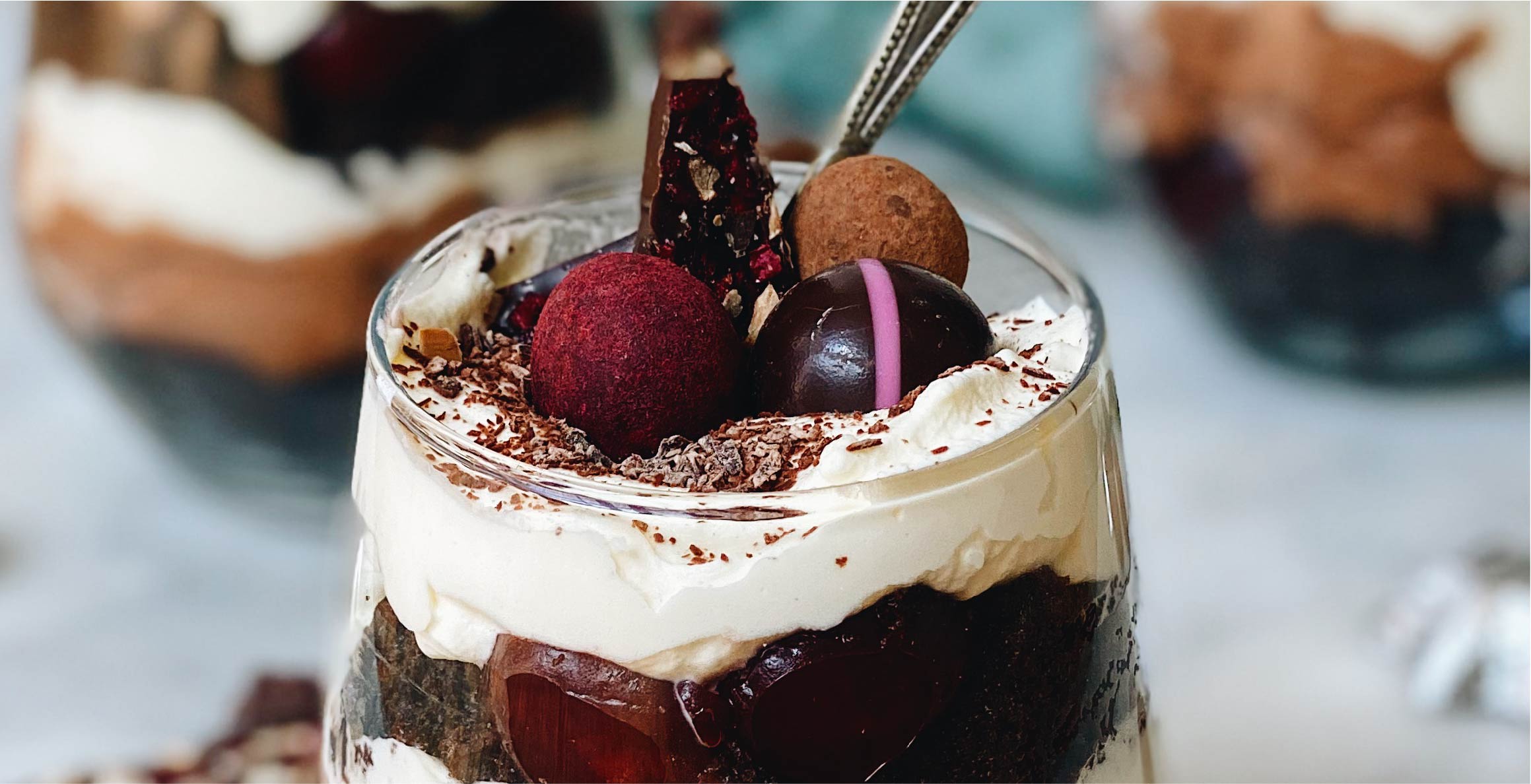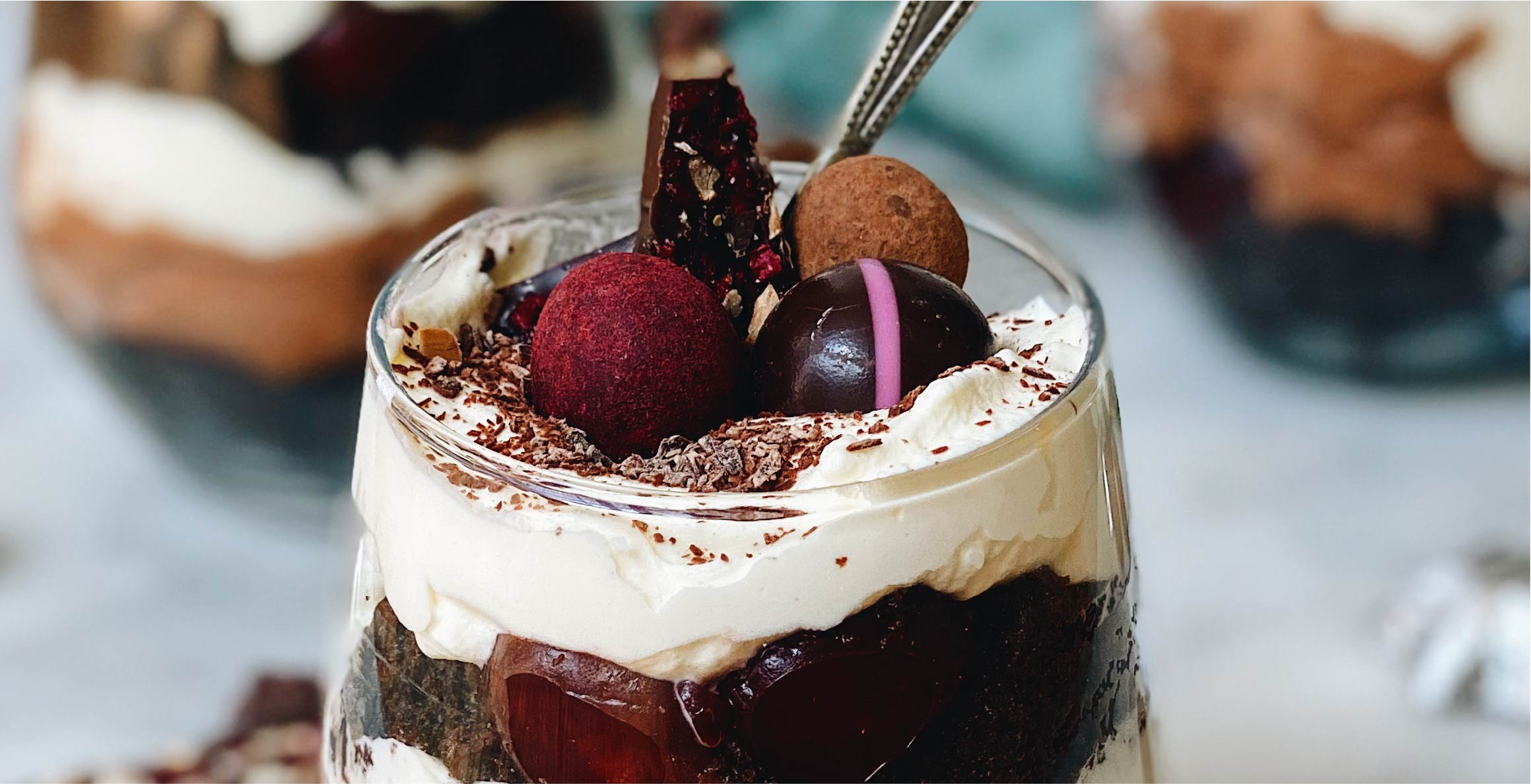 Ingredients
Chocolate Cake
1 cup plain flour
3/4 cup brown sugar
1/3 cup Cocoa Powder
1 tsp baking soda
1/2 tsp baking powder
1/2 tsp salt

1 egg
1/2 cup vegetable oil
1/2 cup coffee (you could use instant or anything similar in strength to a long black)
1/2 cup buttermilk
1 tsp vanilla extract
Chocolate Mousse
150g 54% Dark Chocolate Dotties
150ml pure cream
2 eggs
2 Tbs caster sugar
1/2 tsp vanilla extract
Cherries
3 Tbs cointreau, kirsch, chambord, grand mariner or sherry
350g pitted cherries, quartered (fresh or frozen)
Cream
200ml pure cream
2 tsp caster sugar
1 tsp vanilla extract
To decorate (all optional)
Fresh cherries
54% Dark Chocolate shavings
Very Cherry Marbles
Raspberry Macadamias
Coconut Cherry Delight Block, broken into shards
Method
Cake
STEP 2
In one large bowl sift together, the plain flour, cocoa powder, baking soda, baking powder and salt. Stir through the sugar.
STEP 3
In another bowl or jug, beat the egg then mix in the oil, buttermilk, vanilla and coffee. Make sure the coffee is just warm not boiling so you don't scramble the egg mix. It doesn't need to be mixed together well.
STEP 4
Pour the liquid into the dry ingredients and fold together to completely combine. Pour into the prepared cake tin and bake in the preheated oven for 30 minutes or until it bounces back when lightly touched and/or a skewer comes out clean. Remove sides of the tin and cool on a wire rack for at least 30 minutes. Roughly chop into 3cm squares.
Mousse
STEP 1
Using a stand mixer or electric beater whip the cream to stiff peaks. Do not overbeat! Set aside.
STEP 2
Melt chocolate in a double boiler (heatproof bowl over pot of simmering water) until almost melted. Take off the heat and stir to finish melting.
STEP 3
In a clean bowl use the stand mixer or electric beater again to beat together the eggs, caster sugar and vanilla. Beat until mixture is pale and thick and doubled in volume. This takes about 5 minutes. While the mixer is running on low, pour in the chocolate in a steady stream. Continue mixing until well combined. Fold through the whipped cream. Set aside until cake has cooled.
Cherries
Place cherries and alcohol of choice in a bowl and allow to site for at least half an hour.
Cream
Using a stand mixer or electric beater whip the cream to stiff peaks. Sprinkle over the sugar and pour in the vanilla and whip for another 30 seconds or until stiff peaks have formed. Do not overbeat! Set aside.
Assemble
Now you're ready to assemble. I used 6 stemless wine glasses, you could replicate in a tumbler or make smaller trifles. Or one large one.
Place a few squares of cake in the bottom of each glass to complete one layer.
For each glass, pour over a Tbs or 2 of cherries with at least 1 tsp of the juice and alcohol from the bottom of the cherry bowl.
Spoon over enough mousse to just cover the chocolate cake and cherry layer. Use all the mousse in this layer. Smooth top.
Add a spoonful of cream, spread out and then repeat the cake and Cherry layer, top with remaining cream.
Add your decorations to the top.
Tip: if you find portioning difficult it might help to halve the ingredients for the cake, Cherry and cream layers so you don't short your self on the second layer!