Introducing our Valentine's Day Collection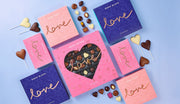 At Koko, Valentine's Day is a day to be celebrated and nothing says 'I love you' like a box of chocolates. However you're spending Valentine's this year, we believe love comes in all flavours at Koko Black, and we've got a diverse and delicious limited-edition collection to help you show every special person in your life how much they mean to you.
What is Valentine's Day?
St Valentine's Day is an annual festival to celebrate romantic love, friendship and admiration for those whom you hold dearest. Whilst Saint Valentine had religious connotations and deep historical roots, the day has grown to become a celebration of love – lovers, friends, family, classmates, and colleagues. 
No longer just a day for red hearts and letters to lovers, Valentine's Day's status in celebrating love has become paramount and can be seen across many cultures. Estonia celebrations are known as Sobrapaev (Friendship Day), where friends and family exchange gifts and celebrate love. France is the epicentre of Valentine's, believed to be the origin of the Valentine's card – homes are decorated with roses and cards and proposals are at an all-time high! In America, Valentine's is also a celebration of kinship, children swap handcrafted cards, colleagues gift sweets and the ever-popular 'Galentines' to love on your dearest friends.
Our Valentine's Day Collection
Our limited-edition collection features only the best of Koko, centred around our Lots of Love 30 Piece Gift Box. Designed to surprise and delight your loved one, lift the lid to reveal an elegant array of our favourite pralines and bites. Celebrate the night in with a home-cooked dinner, light some candles and enjoy this exquisite arrangement of milk, dark and white chocolate delights over a glass of your favourite red wine. 
Visit us in-store to pick a selection of their favourite pralines, be it nutty, fruity or boozy – and our team will hand wrap your pick in a special Valentine's gift sleeve – perfect for gifting (and sharing). Or let us do the hard work for you! Delivered straight to their door: a Chocolatier's Selection, our all-time favourite, best-selling treats, in limited-edition gift wrap. Be sure to arrive early, with a dozen red roses and a gift box of Koko's finest. Relish each other's company with a night on the town with dinner and dancing, winding down to dessert in one of our Koko Lounges. The night is for love, make it yours!
Koko's Valentine's chocolate Hampers are filled to the brim with goodies to sip, savour, and share. Take your Valentine on a romantic harbourside picnic, with a perfectly packed Better- than Flowers Hamper. Pop the cork and sip Veuve Clicquot over classic chocolate truffles. An effortless pairing, wrapped with a Koko kiss.
Enjoying a night of self-love or amongst friends and family? Be your own Valentine with My Valentine Truffle 8 Piece Collection. Eight exquisitely hand-crafted chocolate truffles, bursting with flavour with every bite. A sinfully delicious way to treat yourself. 
Treat your colleagues, or let your littles spoil their friends, with our range of delectable Heart Pops. Available in Milk, Dark and White Chocolate, give a little gesture of thanks and take the opportunity to show your gratitude! 
Sweeten their day and share the love! 
Purchase any Valentine's Day product, and get our heart pop for $2!
How to give a Valentine's Day Gift?
Make your partner's heart melt by giving the gift of sweet messages just from you. Add a gift card at checkout for $1, and personalise a love note to your secret admirer. We have a wide range of delivery options, so even if you're reading this on 14th February, don't worry! If you live in Melbourne and order before 12pm, you can have your gift delivered the same day.
For friends and colleagues, a little something goes a long way to show your appreciation for them being in your life. A tasty box of marbles or Australian macadamias can be nibbled at their desk or at home, while our Lovely Praline Gift Boxes always make a statement paired with a bottle of sparkles when you arrive at your Galentine's. 
We celebrate ALL love at Koko Black
In 2023, we are celebrating and supporting the diversity of love with our 'Love is Love' collection. Featuring bold and bright colours splashed across beautiful rainbow sleeves, our Pride collection will be available online and in selected Sydney and Melbourne stores for a limited time.
 We're advocates for diversity, inclusion, and acceptance by ensuring that just like love, chocolate has no limits and there is a filling and a flavour for everyone. 
Find your true love at Koko Black.