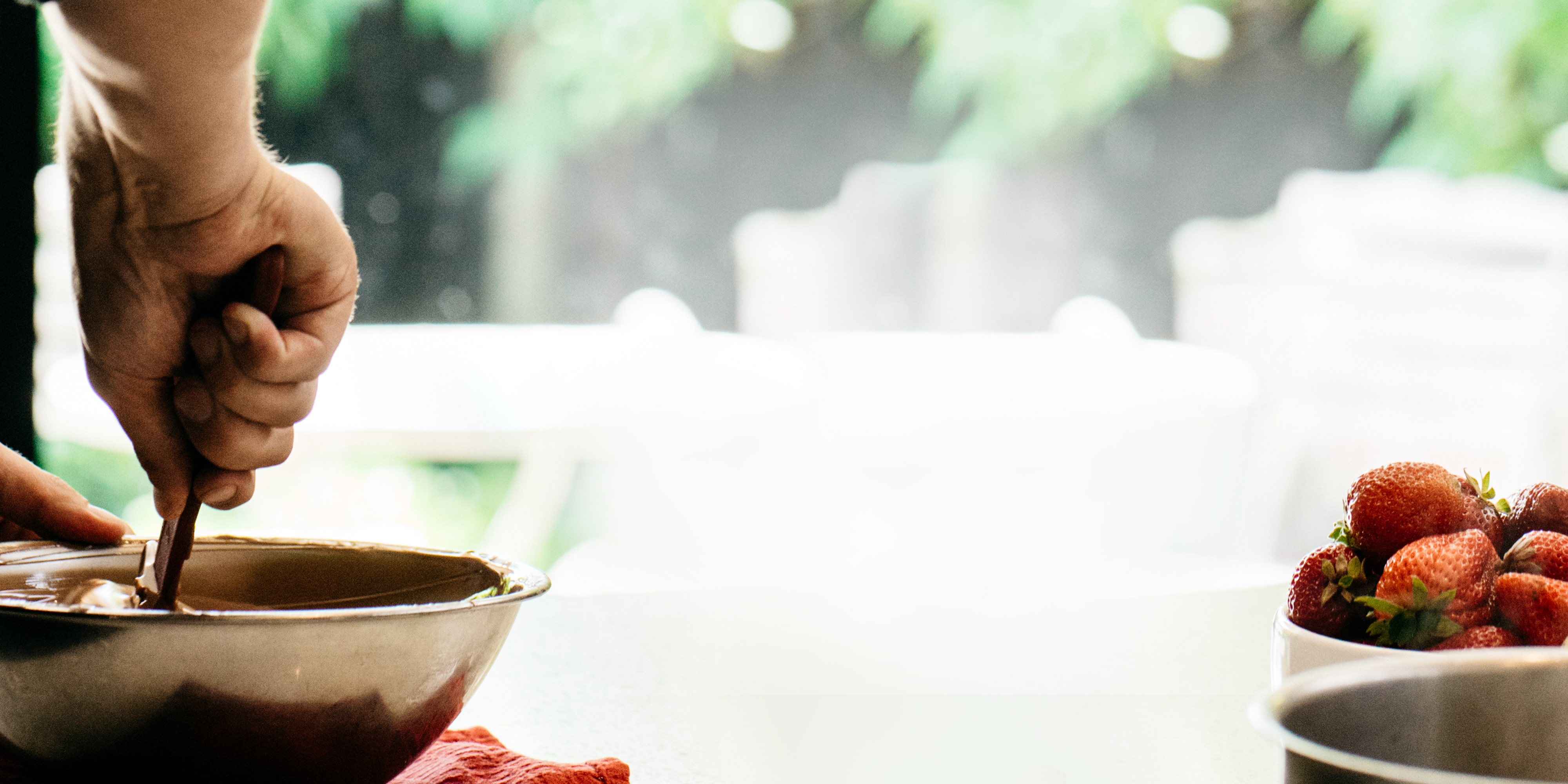 Made in the melting pot.
Like Australia itself, we bring together the world's best with proudly local ideas and ingredients.

We start with the best Belgian couverture, made with 100% cocoa butter – with zero palm oil and other vegetable fats involved. This gives it a rich, smooth when melted, and a premium "snap" (that's a chocolatier's technical term for the satisfying oomph when you bite into a block.)

Our 'standard' milk chocolate is actually anything but, with a huge 34% of cocoa solids – the highest percentage among our chocolatier peers. Alongside it, our spectrum of couverture ranges from a 28% cocoa solids white chocolate, to a fruity, intense 100% dark chocolate – one for real cocoa aficionados.

To this premium starting point, we love to add home-grown ingredients like Tasmanian leatherwood honey, Australian nuts and native bushfoods. Our flavours are inspired by the world, with a uniquely Koko twist – think roasted coconut paired with whipstick wattle, and matcha offset with natural pink lake salt.

Which means a Koko Black chocolate is more than just delicious – it's also a world tour in chocolate form.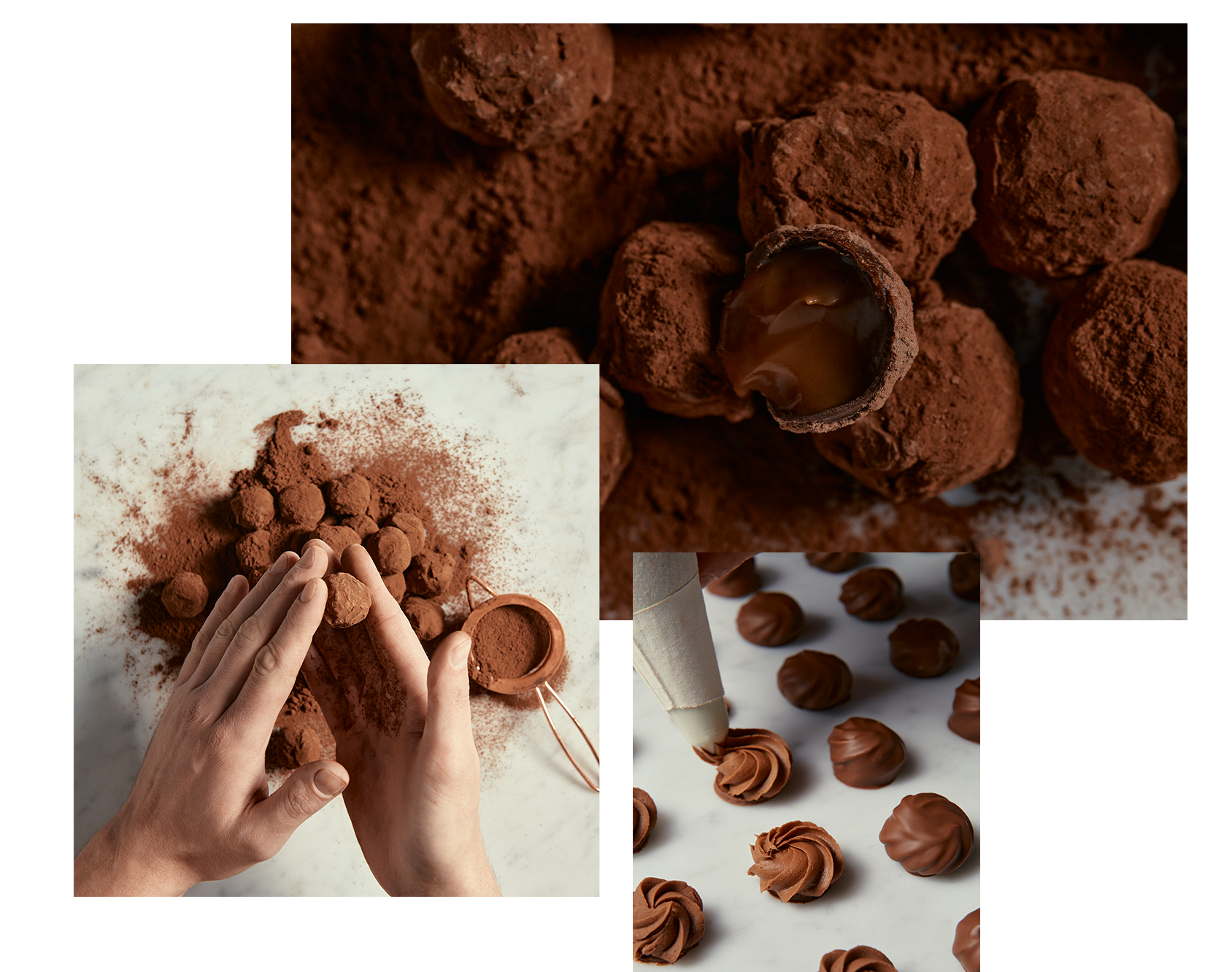 Crafted by hand, eye and palate.
At Koko Black, chocolate has always been our craft as well as our calling.
Each one of our chocolates is handmade – even now, with hundreds of products in our portfolio. We temper, mould and enrobe each piece using traditional Belgian methods of chocolate-making, perfected over centuries and passed down through generations of chocolatiers.
While we could automate our operations further, we know there's no machine that can replicate human artistry: the sculptor's fingers, the painter's eye, the connoisseur's palate. So we continue to roll our truffles, pipe our caramel mousse, and shape our clusters one-by-painstaking-one. It's a devotion that might seem difficult to understand – but only until you taste the results.

Infinite possibilities of cocoa
What we make, how we make it, and why we bother going to so much delicious trouble.
The classic filled chocolate, the praline will always occupy a special soft-centre in our hearts – after all, it's where Koko Black began. Like all our chocolates, our signature pralines are handcrafted from fine Belgian couverture, and each contains a delicious surprise: a chunky cluster of hazelnuts, a burst of caramel mousse, or maybe a shimmering jewel of passionfruit jelly and strawberry gum ganache.
It's hard to go wrong with chocolate as a gift, and with 20 thoughtfully curated gift boxes to choose from, we make it even easier to get that birthday, thank you, sorry, goodbye or hello present absolutely spot on. Each comes beautifully presented, with tasting notes and space to add a gift card.
Don't let the name fool you – sometimes the best all-rounders are actually sphere-shaped. Named after their all-round popularity, they include chocolate classics like sprinkles and liquorice logs, shareable treats like covered coffee beans, and our famously moreish caramelised coconut dotties, lovingly caramelised to a top-secret recipe.
How do you make creamy, premium Belgian chocolate better? You layer it over tiny works of culinary artistry, taking traditional favourites to an entirely new level of decadence. Think a 'Rocky Rogue' studded with real raspberry and pistachio, lush vanilla bean marshmallow inspired by the iconic Polly Waffle, and our take on the Violet Crumble: pure Tasmanian Leatherwood Honeycomb. Then we dunk the whole thing in molten milk or dark chocolate, cool it down, and weep a little over its sheer beauty.
One of our original products, the Koko Signature Hot Chocolate is made by brewing fresh milk, fresh cream and 54% dark Belgian couverture chocolate for two hours. No powders are involved – just the best quality ingredients, careful technique and a lot of patience. This lets the flavours meld into a smooth mug of molten goodness that's often praised as the best hot chocolate in Melbourne (and possibly beyond.)
Blocks may be the trusty stalwarts of the chocolate world, but for us, they're also objects of art. Our 32-strong range of blocks includes single-origin bean varieties with a distinctive terroir, plus classic dark blends, smooth ganache-filled blocks, and topped blocks shimmering with a collage of nuts, fruit and raw cacao.
Marbles are designed for total sensory satisfaction: generously sized spheres of couverture chocolate filled with a burst of nuts, fruit or classic cocktail-inspired ganache. Nibble daintily round the edge, bite through the centre or let the whole thing collapse luxuriously on your tongue – whichever way you eat them, there's an adventure ready to unroll.
Making magic, not just chocolate.
At Koko Black, it's our mission to conjure up magic you can eat:
transforming premium natural ingredients into something that
amounts to far more than the sum of its cocoa solids and sugar.

It's a philosophy that's produced over 260 Koko Black products since
2003, and more moments of chocolate transcendence than we
could count. Here's a look at some of our favourites.