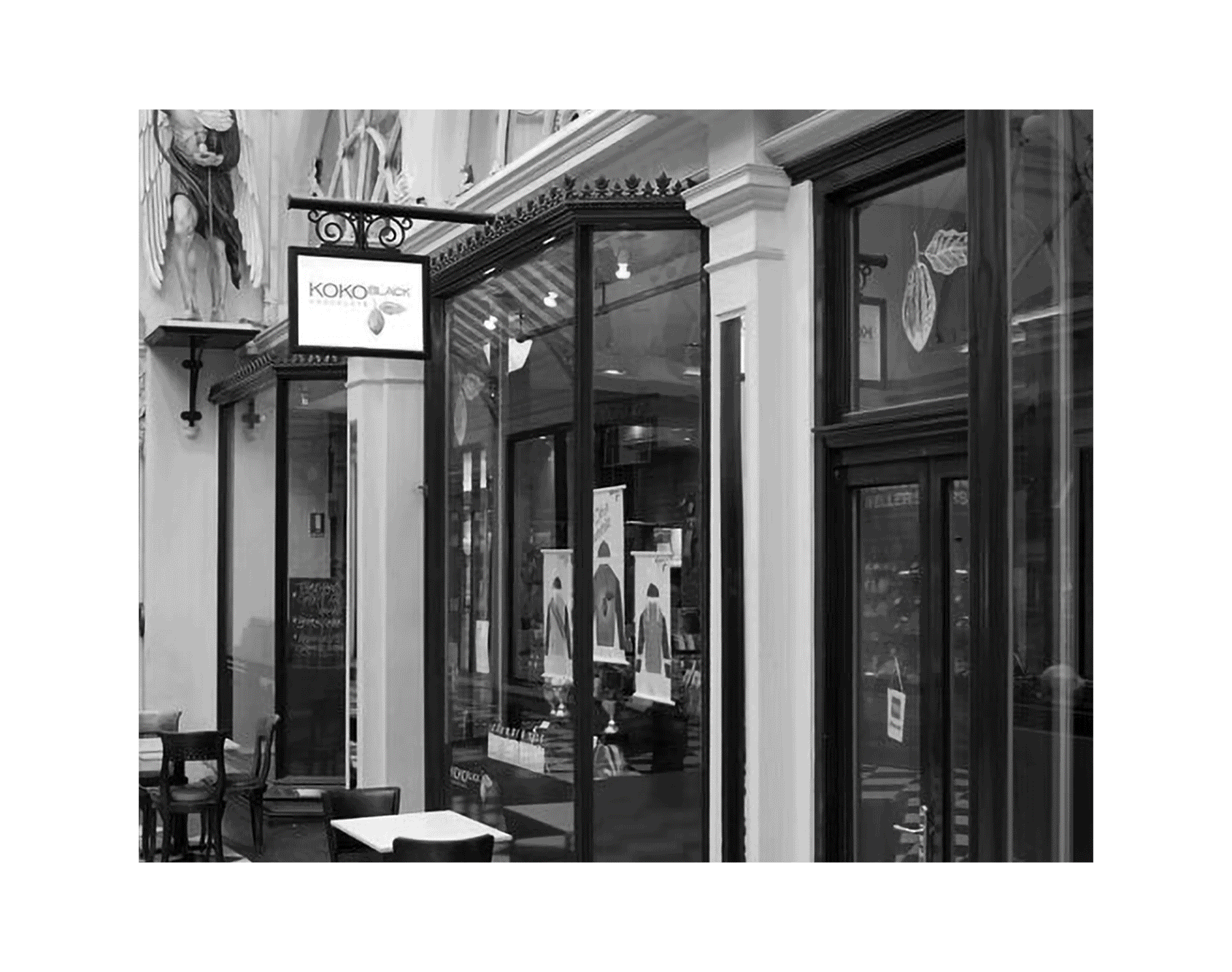 From Bruges to Coburg, via a fancy shop in the Royal Arcade.
We ventured forth to Belgium with a hunger to learn and a hankering for ganache. We returned with the talented chocolatier Dries Cnockaert, and together opened the very first Koko Black store beneath the soaring arches of Melbourne's Royal Arcade.
The rest is history, as well as delicious. Soon our little store couldn't keep up with the demand. One store became fifteen, and our small-but-perfectly-formed collection of pralines became a range of 260 truffles, marbles, blocks, boxes and oh-so-silky hot chocolate blends.
We quickly learned that Australia loved the smoothest, richest, most decadent of cocoa creations just as much as we did.
With that, we shifted our mixers, moulds and tempering machines out to a shiny new Creative Centre in Coburg, and got to work testing and tasting many, many samples. Tough job, true, but someone had to do it.
Today, we're proud to be Australia's contemporary, home-grown artisan chocolatier. We're a long way from those very first pralines, but the same spirit of adventure and exceptional quality still infuses everything we make.

Our Story
Where we've come from, where we're going, and the swirls of wisdom we've crafted on the way.

At Koko Black, we've always been committed to chocolate. In fact, we love our pralines so much, our founder Shane named his daughters after two of them. (Or maybe it was the other way round.)
 
But whichever way you look at it, chocolates have always been treasured like family members here. We even developed a special flavour – the Passion Praline – for the wedding of two team members who first locked eyes across a crowded tray of truffles. (Their love story is possibly even sweeter than the actual chocolate itself.)
 
It's no surprise, because for us, the bean of the Theobroma cacao tree is a natural wonder of the world. We love the art and science around it, the alchemy that happens when you melt, mix and mould in just the right way.

That's why we keep our creations free of artificial flavours, colours and preservatives. Because making the most of Mother Nature's genius is the least we can do.
Australians have a knack for making delicious things even better – taking the best of the world's food traditions and making them our own. Our wine-makers did it in the eighties. Our coffee-makers did it in the nineties. But in the early noughties, we looked around and realised our culinary landscape still lacked one important thing: premium, world-class, distinctively Australian chocolate.

With that, our calling was clear. We set out to make the best chocolate anywhere, available to Australians everywhere. Chocolate that isn't just a hit of cocoa, but a little dose of magic. Chocolate that tastes like an experience and feels like an art form.

This was where Koko Black began. A mix of one part conviction, to one part curiosity, to one part craving for the finest couverture.


When life gives you lemon myrtle.
 
At Koko Black we've learned a lot from the great European chocolatiers, but these days we're loudly and proudly Australian.

We sing out our identity in our ingredients, with new tastes that include lemon myrtle, whipstick wattle, Davidson plum and green ants (yes, seriously).
 
Provenance is important to us, which means we source locally wherever possible, prioritise sustainability and work with home-grown culinary luminaries, rethinking what chocolate is and can be.
 
Because like a shimmer of sea salt on a smooth dark ganache, something powerful happens when opposites come together. When Belgium comes to Melbourne. When centuries-old tradition meets fresh, curious thinking.

And when the finest artisan chocolate is available right here. Ready for literally everyone to enjoy.
Once upon a tempering machine...
A story of what happens when time-honoured tradition meets fresh thinking, and fine couverture chocolate meets green ants (yes, seriously).