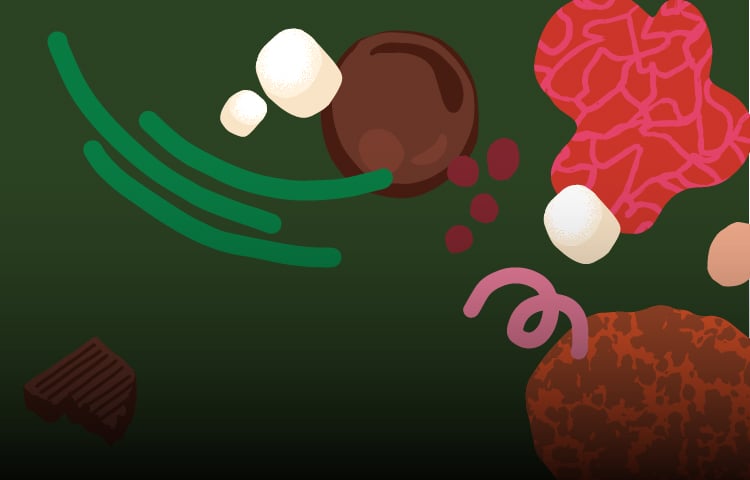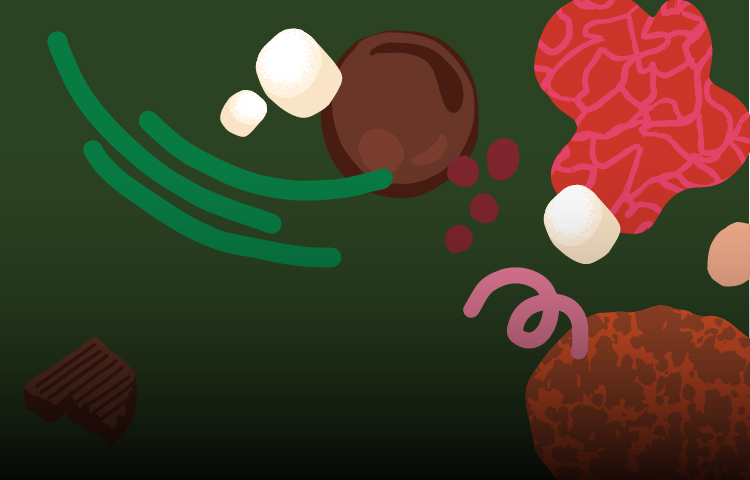 Meet Alice Oehr
Alice is an artist and designer from Melbourne, with a distinct colourful style that incorporates her love of food, pattern, collage and drawing. Many of her ideas have made their way onto textiles, homewares, magazines, books, and even once as a series of 6ft tall Ancient Egyptian statues for a marquee at the Spring Racing Carnival. And now… they've made their way to Koko Black.
What was your brief?
My job was to illustrate all the flavours and textures that go in a cup of hot chocolate. Hopefully I was able to capture the feeling of drinking the perfect brew - we all watched a clip of a mouse in the film Ratatouille who is eating some delicious food and there are fireworks going off as his tastebuds go crazy.
What attracted you to this project and working with Koko Black? 
I really love to work on illustrations surrounding food and cooking, as this is a large personal interest of mine. Couple that with my preference for working with local businesses, and this was a very exciting project for me. Also, chocolate is a really special theme for people at all ends of the project!
What was the inspiration behind your illustration?
I was encouraged to take artistic licence when capturing all the elements that go into the perfect hot chocolate. I was thinking of the physical ingredients; silky milk, blobs of cream, chunky chocolate and subtle notes of fruit and spice. But also the experience of drinking a beautiful hot chocolate, the explosions of flavour and the feeling of warmth.
What is your creative process?
I had a lot of ideas for this project straight away, which is always a great place to start. I begin with a pencil sketch, then work up the lines on my iPad Pro. I use the computer to play with the colour palette and composition; sharing my progress with the team until everyone is happy.
What have you enjoyed most about the creative collaboration?
I've loved to have my mind on chocolate with the weather getting cooler, and to work with a local business I admire. Also, having other people's ideas and opinions on my work – such as showing me the clip from Ratatouille I mentioned– always takes my work in new directions and gets the end result to a place it wouldn't have gotten if I'd created it alone!
And last of all, what is your recipe for a wonderful winter?
Feeling cosy is the most rewarding when you've braved the cold! I love going outside to sneak some Winter sun and admire the strong Wintery light, and then retreating indoors for a lovely warm meal with friends, including red wine and definitely some chocolate.