Collaboration between Koko Black & Four Pillars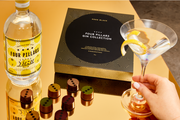 A GINius collaboration between Koko Black and Four Pillars delivers delicious new gin-infused pralines
Australian artisanal chocolatier, Koko Black is launching a collaboration with the world's leading gin producer, Four Pillars. Recognized as an innovative and experimental chocolatier, Koko Black has produced four new pralines inspired by some of Four Pillars' most popular gins, such as Bloody Shiraz Gin, Rare Dry Gin, Fresh Yuzu Gin, and Olive Leaf Gin. Better yet, they're arriving just in time for Mother's Day, and there's no better gift than gin-inspired pralines.
The Four Pillars Fresh Yuzu Gin praline merges the smoothness of cocoa-rich milk chocolate with herby green tea and tangy yuzu for a delicate flavour, while the Rare Dry Gin praline boasts a botanical, fruity harmony. Koko Black proves that it's no stranger to creativity, with the Olive Leaf Gin praline blending smooth dark chocolate with rosemary, olive oil and sour lemon whereas the Bloody Shiraz Gin praline accentuates sour cherry for a category-defying praline.
Packaged as 16 indulgent moments, the collaboration will be launched in stores and online on April 18. For additional notes of luxury and elegance, Four Pillars have also created four bespoke cocktails further inspired by the pralines which will be included in the guides within the praline packages. After all, the herbaceous notes of the chocolate are much better appreciated alongside a gin cocktail.
Head Chocolatier, Remco Brigou voiced that he is looking forward to witnessing the exciting and innovative collaboration between two iconic brands come to life.
"We are thrilled to share the genius of Four Pillars in the creation of these unmissable pralines. Four Pillars is a brand that prides itself on bringing out the luxurious and complex notes of gin. We have always admired their use of  Australian native botanicals like lemon myrtle, and we look forward to bringing these exquisite and daring flavours to chocolate-lovers," says Brigou.
Co-Founder of Four Pillars, Matt Jones also says, "At Four Pillars our passion is exploring the possibilities of flavour through gin, and there's nowhere better in the world to do that than here in Australia. So we jumped at the chance to work with local legends Koko Black to allow people to explore those delicious gin flavours through a different medium, chocolate. This has been a collaboration like no other in Four Pillars history. The Koko Black team have used four of our gins as the starting point for four sensational chocolates. And we in turn have taken those chocolates as inspiration for four delicious matching cocktails. Gins, chocolates, drinks. Win, win, win!"
The Four Pillars collaboration will be joining other delicious bites of smooth and rich chocolate at Koko Black. 
. Made with 100% natural ingredients and sustainably sourced cocoa, Koko Black's partnership with Mother Nature makes for high quality, ethically-produced and handcrafted, irresistible chocolate.
 Discover the Four Pillars collaboration at Koko Black stores nationally or online.