How is Koko Black Chocolate Made?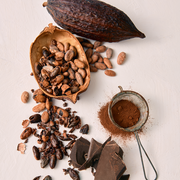 A little bit of magic goes into each Koko Black creation. From the inspiration to the ingredients, flavours and handmade process, our Koko Black chocolates are produced using only the highest quality and careful construction to create a chocolate experience like no other. Come with us for an inside look at how we make our chocolates right here in Melbourne, Australia.
Why Choose Koko Black Chocolate
For the chocolate lovers, flavour connoisseur and loved ones you want to spoil, Koko Black chocolates are made with love, care and the highest-quality ingredients, so every bite is met with a truly unique and mouth-watering flavour, crunch and snap. From it's initial conception of flavour and choice of ingredients to the chocolate-making process, each step is thoroughly thought out and tweaked to perfection.
Inspiration for our Handcrafted Chocolates
At Koko Black, we take inspiration for our wondrous flavours from all around us and are intrinsically inspired by the taste of our place, Australia. The Australian landscape is full of wonderful, unique and versatile tastes and tones that give our chocolatiers the room to experiment, challenge what has already been accomplished and transform the ways we see and experience chocolate. 
Our authentic flavours  will take you on a journey across our land, from Northern Queensland,all the way to Western Australia. Surprise and delight the palate with unique Australian flavours, like tart Davidson Plum and even a burst of Indigenous bush tucker. It's an experience for the truest flavour connoisseur.
Our chocolate flavours are also inspired by the world, with a uniquely Koko twist – think roasted coconut paired with whipstick wattle, and matcha offset with natural pink lake salt. 
What Ingredients go into Koko Black Chocolate
From the inspiration stage, we take our ingredients very seriously. Not only do the best ingredients mean better chocolate all around but they need to combine to create a unique experience, taking the taste buds on a journey. 
We start with the best Belgian couverture, made with 100% cocoa butter – with zero palm oil and other vegetable fats involved. This gives it a rich, smooth when melted, and a premium "snap" (that's a chocolatier's technical term for the satisfying oomph when you bite into a block.)

We love to add home-grown ingredients like Tasmanian leatherwood honey, Australian nuts and native bush foods. 
We sing out our identity in our ingredients and we're not afraid to get experiemental, with new tastes that include lemon myrtle, whipstick wattle, Davidson plum and green ants (yes, seriously). Provenance is important to us, which means we source locally wherever possible, prioritise sustainability and work with home-grown culinary luminaries, rethinking what chocolate is and can be.
Handcrafted, Naturally (Of Course)
Each one of our chocolates is handmade with love (and a little Koko magic). Our artisan's temper, mould and enrobe every bite using traditional methods of chocolate-making, perfected over centuries and passed down through generations of chocolatiers. 
This means we will always hand-pipe our Whipped Caramel Mousse, hand roll our Chocolate Truffles and sprinkle the salt on our famous Salted Caramel Pralines. 
We have specially dedicated teams for each department, too. Our temperers cool Koko's signature chocolate to ensure it's as smooth and mouth-watering as possible. We have chocolatiers devoted to pralines, the tastiest little morsels of goodness. They sprinkle the salt, add the rose jelly fillings and dip orange segments (carefully  by hand). 
Each one of our artisans has perfected their craft, instilling within each of our chocolate blocks, pralines and seasonal gifting delights, the purest essence of chocolate tradition and mastery, so you can effortlessly enjoy a mouth-watering experience with friends and family or simply by yourself.
The Final Flourish