The Best Double Chocolate Brownies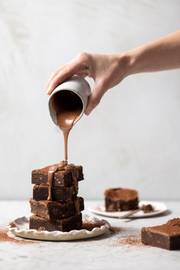 Cooking Time: 45 Minutes

Serving Amount: 15 Slices

Difficulty Level: Medium
Ingredients
2 cups (340g) Dark Koko Black Chocolate Dotties
250g Butter
2 cups (400g) Sugar
4 eggs
2 cups (250g) plain flour
2 tsp baking powder
1 tsp salt
180g All About Almond, roughly chopped (2 x Blocks)
Koko Black Cocoa powder, for dusting
Method
Preheat oven to 150'C
Place our Koko Black Chocolate Dotties and butter in a bowl, over a pot of boiling water on the stove (ensure the bowl is not touching the water) heat until all the chocolate and butter have melted.
In a stand up mixer, combine sugar and eggs and whisk on medium until pale and fluffy, about 3min.
Once whipped, gently pour in melted chocolate and butter and mix until just combined.
In a small bowl, mix flour, baking powder and salt together. Then gently fold into the chocolate batter with All About Almond, until just combined.
Line a 27cmx32cm oven dish lined with baking paper and pour in brownie batter.
Bake at 150'C for 35 min or until just set in the middle.
Once cooled to room temperature, cut into squares and dust with cocoa powder