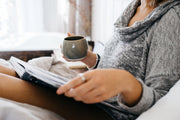 Slip on some fuzzy socks, grab your favourite book, and snuggle up with a belly-warming mug of Hot Cocoa. This is how we are cosying up with Koko this Winter. 
Koko Black​​
Prefer to warm the home and your family's hearts with a handcrafted Koko treat straight from the oven? Our cold weather recipes are calling your name! Dip into a hot Chocolate Skillet Cookie drizzled with melted chocolate. This exclusive recipe is the most decadent delight.
Our Australian Classics Collection make the most brilliant accompaniment, perfect for dipping in a fresh mug of hot chocolate. Or try a Lamington Slice for an Aussie take on a classic marshmallow topper.
For the frosty weather baking enthusiast, or as a baking starter kit, our Cooking with Koko Hamper is the perfect pick. The secret ingredient is always Koko! Filled to the brim with silky-smooth couverture classics, the possibilities are as endless as your imagination.
Prefer to let us spoil you? Step into a Koko lounge, find a cosy nook and immerse yourself into the sensorial world of chocolate. Each menu is a bespoke design, featuring local artisanal bakeries. Tuck into a slice of chocolate cake or a fresh croissant, dipped into a handcrafted Chocolate Affogato. On the run? Enjoy a takeaway Hot Chocolate direct from our magic makers, or delivered straight to your door by UberEats.
Koko Black​​
Whatever your pleasure, Koko Black is bound to warm the heart, belly and soul this Winter.