Black Star Pastry x Koko Black | Limited Edition Chocolate Hot Cross Buns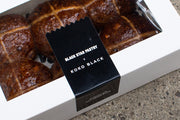 Black Star Pastry and Koko Black are upping the ante on the traditional hot cross bun. Our chefs and bakers are proving dough daily, and Koko Black's chocolatiers are delicately tempering chocolate day in, day out. The result, a decadent, moreish and utterly delicious chocolate Easter Hot Cross Bun.
There's no better way to start your day than waking up to the smell of fragrant hot cross buns dripping with melted butter.
Black Star Pastry ​​
Incorporating Koko Black's handcrafted 60% dark chocolate, with 100% natural ingredients and 100% sustainably sourced cocoa, the dense yet cushiony dough has a welcome addition of smooth chocolate flavour. The buns are sticky, sweet, and vegan (yes, vegan!), and for those chocolate lovers, are dotted with Koko Black chocolate chips throughout.  Finishing it off, the buns are brushed with a lightly spiced glaze, that seeps deep into the buns, and finally, marked with a chocolate cocoa cross.
Black Star Pastry​​
"We have created some wonderful chocolate delights over the past few years together and this will be no different. Our traditional hot cross buns continue to be rated some of the best in Melbourne and Sydney, so naturally, when exploring concept for our second iteration, we looked no further than Koko Black".
For the traditionalist, our famous frankincense glazed buns will still be available in-store and online.
Run, don't walk. They'll be here for a good time, not a long time.
Price: Single $4.50, Six $25, Dozen $45
Dates: Wednesday 15 March – Monday 10 April
Stores: All Black Star Pastry Sydney and Melbourne stores, including our soon-to-open Driver Lane CBD store.