Brownie Petit Fours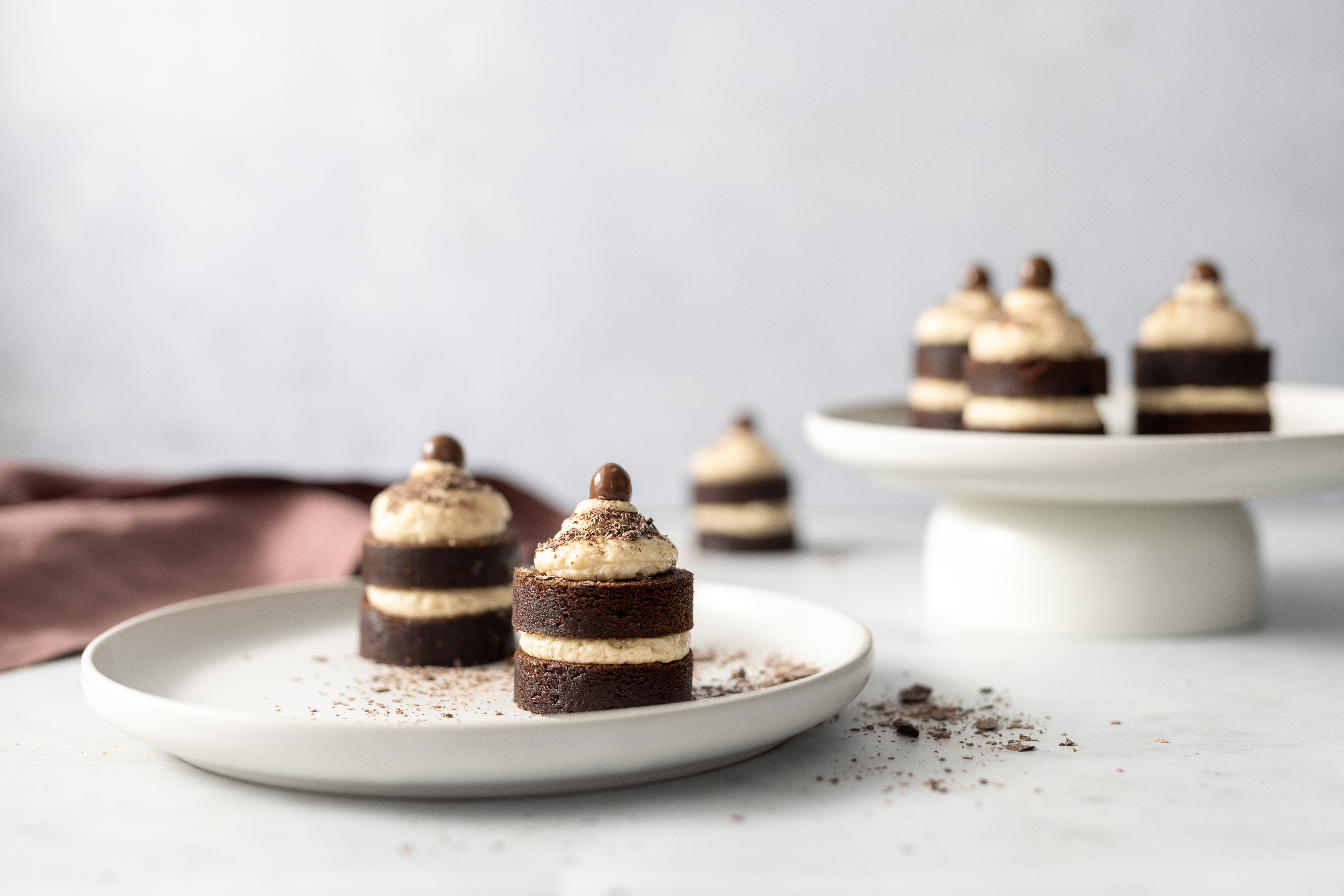 Prep Time - 30 minutes. Cook Time - 25 minutes

10

Intermediate
Ingredients
Brownies
120g Koko Black Dark Chocolate Dotties
160g butter
½ cup caster sugar
½ cup brown sugar (lightly packed)
3 large eggs, lightly beaten
2 tsp vanilla extract
1 cup plain flour
½ cup Koko Black Cocoa Powder
½ tsp salt
Spiced Buttercream
125g butter, softened
1 tsp vanilla extract
1½ cups icing sugar
2 tbs milk
1 tsp mixed spice
Decorations
Koko Black Milk Chocolate Shavings
Koko Black Gingerbread Bites
Store-bought caramel sauce (optional)
Method
1. Preheat oven to 160C and grease and line a 20x30cm lamington tin.
2. In a medium saucepan melt chocolate dotties and butter over low heat, stirring often. Remove from heat and pour into a large bowl. Stir in caster sugar, brown sugar, eggs and vanilla extract until combined. Mix in sifted flour, cocoa, and salt until just combined.
3. Pour in to prepared tray and spread evenly. Bake for 20 to 25 minutes until a skewer inserted into the centre comes out mostly clean. Cool in tin.
4. To make buttercream, beat butter and vanilla extra until soft and pale. Slowly beat in half the icing sugar. Add milk, beat until combined. Add remaining icing sugar and mixed spice and beat until combined and smooth.
5. To assemble brownies, cut the brownie in to rounds using a small scone cutter. Pipe buttercream on to half the rounds, top with the remaining brownie rounds and top with more buttercream.
6. Sprinkle with Koko Black Milk chocolate shavings and gingerbread bites. Drizzle with caramel sauce before serving if desired.