Chocolate Mousse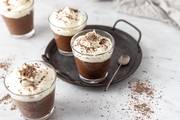 45 min prep & assembly, 3 hour fridge

4-6

Beginner
Ingredients
3 large eggs, separated
¼ cup white caster sugar
200g Koko Black Dotties | Dark Chocolate
20g unsalted butter, softened
125ml thickened cream, plus extra to serve
Koko Black Shavings | 54% Dark Chocolate, to serve
Method
1. Separate egg whites from yolks, and place in two separate bowls.
2. Beat the egg whites and sugar with an electric mixer until stiff peaks form and set aside.
3. Beat the cream until soft peaks form, set aside.
4. Add the chocolate to a medium heatproof bowl. Melt over a pot of simmering water, being careful not to let the water touch the chocolate. Alternatively, melt the chocolate in a microwave in short 20-30 second bursts, stirring in between. Once melted, remove bowl from heat and stir in butter until smooth and silky. Fold in the egg yolks.
5. Transfer the chocolate mixture to a large mixing bowl, then gently fold the cream in.
6. Add ¼ of the egg whites and gentle fold, then repeat until all incorporated. Be careful not to overmix (this will result in a denser mousse).
7. Divide mousse among serving dishes; refrigerate for 3 hours or overnight.
8. Serve chocolate mousse with extra whipped cream and Koko Black Dark Chocolate Shavings