Koko Black x Black Star Pastry 2022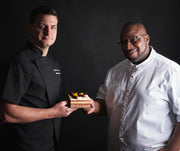 PREPARE YOUR TASTEBUDS FOR THE ALMIGHTY THEOBROMA
FOOD OF THE GODS


Koko Black and Black Star Pastry bow down to mother nature with World Chocolate Day creation.


AVAILABLE THIS WORLD CHOCOLATE DAY FOR ONE DAY ONLY – THURSDAY 7 JULY


-----


Koko Black x Black Star Pastry Collaboration
Koko Black and Black Star Pastry join forces once again in light of World Chocolate Day to create a spectacular feat of cocoa goodness – the almighty Theobroma: Food of the Gods.
This seven-layered cake takes you on an exploration of the cocoa fruit to surprise and delight with an unexpectedly rich and fruity aroma.

The Composition of Theobroma: Food of the Gods


Theobroma is a creation made up of a cacao shortbread base, caramelised puffed buckwheat and quinoa crunch,
chocolate mousse, light cacao sponge and cacao fruit juice cremeux.
Drawing further inspiration from nature, the World Chocolate Day cake is garnished with leaves and twigs handcrafted from chocolate,
cacao fruit compote and caramelised cacao nibs to replicate the home of the cocoa bean.
The Creation of Theobroma

Koko Black Head Chocolatier Remco Brigou said, "World Chocolate Day is a particularly special day for
me where the product I have devoted my entire career to is thrust into the spotlight.
At Koko Black, we prioritise collaborating with brands that possess the same values as us,
which sparked a true partnership with Black Star Pastry where Arnaud and I spent six months months brainstorming,
conducting nine different cake trials with countless hours spent in the kitchen to deliver the most glorious celebration of the cocoa bean.
Over the past few years of the annual collaboration, the bond and trust Arnaud and I have built has resulted in us producing our favourite creation to date," he concludes.

Black Star Head Pastry Chef Arnaud Vodounou said, "I want this creation to show people that chocolate is so much more than the milky,
bittersweet flavours that everyone knows. Theobroma heroes the often forgotten fruity and acidic flavours of
the cocoa bean and draws inspiration from the origins of chocolate by using natural
ingredients in their most raw form. I still remember the first time I tried Koko Black's chocolate and instantly fell in love with it for its
home grown ingredients, precise handiwork and ability to transcend the tasting experience to something of an art.
I adore working with Remco on such a stimulating and collaborative project where we leant on each other's skills to produce something extraordinary," he concludes.
Where to Buy Theobroma?
Celebrate World Chocolate Day in Australia, Thursday 7 July, with the Theobroma: Food of the Gods cake,
available at select Koko Black and Black Star Pastry venues across Melbourne and Sydney.
Single-serve $15 
Whole cake (serves 4) $55 only available at Black Star Pastry
The Koko Black X Black Star Pastry cake will be available from the following locations until sold out:
| | |
| --- | --- |
| Victoria | New South Wales |
| Koko Black Royal Arcade | Koko Black The Strand |
| Koko Black Chadstone | Black Star Pastry Newtown |
| Koko Black Como | Black Star Pastry Moore Park |
| Koko Black Doncaster |  Black Star Pastry Rosebery |
| Koko Black Highpoint | Black Star Pastry CBD  |
| Koko Black Town Hall | |
| Koko Black The Glen | |
| Black Star Pastry Chadstone | |
Send your taste buds ablaze with the limited-edition, one day only Koko Black X Black Star Pastry Theobroma cake and celebrate World Chocolate Day in style now.