Koko Black x Modus Operandi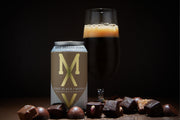 KOKO BLACK LAUNCHES THEIR FIRST EVER CHOCOLATE BEER
Australian artisan chocolatier, Koko Black, has teamed up with award-winning homegrown brewer Modus Operandi to launch its first ever beer, Koko Black x MODUS Choc Hazelnut Belgain Stout.
Available online from Tuesday 18 May, the collaboration celebrates the best of both brands, offering a full bodied, expertly-crafted Belgian stout (6.9% ABV) with an exciting Koko Black twist.
Using Koko Black's 'Nuts to Caramel Collection' as inspiration, the brewers created the limited edition luxury beer, with additions of hazelnut and heavenly Belgian couverture chocolate.
For those in Melbourne looking to get an early taste of the new brew, the partnership will mark the official launch of the 2021 Melbourne Good Beer Week, taking place now until 23 May. Koko Black x MODUS Choc Hazelnut Belgain Stout will be available for tasting at the MODUS Good Beer Week Hub at Good Heavens Rooftop, along with being sold across independent Victorian bottle shops to as a four pack for $35.00, following Good Beer Week on 23 May.
Those attending the Great Australian Beer Spectapular (GABS) in Melbourne from 21 - 23 May can also enjoy the unique opportunity to attend a chocolate and beer pairing Masterclass with Koko Black's Head Chocolatier and Product Innovator, Remco Brigou and Kirrily Waldhorn also known as the Beer Diva.
Koko Black will also be offering a limited edition luxurious gift box for $99.00, available Australia wide via kokoblack.com featuring Koko Black's Nuts to Caramel Collection (18pc), Roasted Toasted Hazelnuts (200g), Hazelnut Gianduja Bombs (150g) and four 375ml Koko Black x MODUS Choc Hazelnut Belgin Stouts.
For media enquiries, please contact:
Daniel Goldstein
Senior Account Manager, Example
Phone - 0410 326 004
E: daniel@example.com.au