How to Choose the Perfect "Thank You" Gift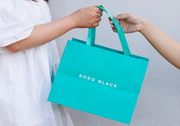 How to Choose the Perfect "Thank You" Gift
​​​​
Whether it's a friend, a work colleague or someone special, saying thank you with a gift is a great way to show your appreciation. The question is, what is the best gift to show how much you appreciate the recipient? A note is nice, but Koko Black chocolates take the giftee through a memorable degustation journey. From hampers, gift boxes, chocolate pops topralines, we've put together a guide of our top ten thank you gifts to help you choose the perfect present to show your gratitude, no matter how big or small.
Why Give a Thank You Gift?
When someone has gone above and beyond for you – whether that's as a favour, a loving gesture or an act of generosity – there's no better way to say how appreciative you are than giving them something nice that shows how appreciative you feel. It can be a way to repay the favour or even to show someone how much their hard work means to you. It doesn't have to be a super expensive gift or even something they need. It's all about giving from the heart.
There is a wide range of people that can receive a heartfelt thank you gift, and in this article we've covered the best ideas for a:
Thank you gift for teachers

Thank you gift for friends

Thank you gift for your boss/colleagues
As well as some extra recommendations for a thank you gift for your doctor/nurse or a friendly neighbour.
Whatever the gesture, big or small, showing your appreciation through a thank you gift is the easiest way to make the recipient feel valued and special. And what's a better gift than a thank you gift from Koko Black?
From extravagant gifts to small, personal touches, our selection of Koko hampers will make anyone smile and are the perfect way to say thank you to that special someone.
Discover our Thank You Gifts
The ultimate sign of gratitude. While we don't usually play favourites, we're sure you'll find yours in our Ultimate Koko Collection hamper. Find a curation of our chocolate bites, blocks, pralines, and in-betweens, all wrapped and decadently placed. You can choose from in-store pickup or have them packed up nicely and shipped straight to their door. The gift hamper to end all thank you gift hampers, choose our Ultimate Koko Hamper this season.
Say thanks a bunch with vintage bubbles and a selection of Koko's finest. Our Forever grateful 2012 Vintage Champagne hamper is stocked to the brim with all the glitz and glamour. With the finest selection for someone who's gone above and beyond, including Veuve Champagne 2012, pralines and in-between bites to nibble and snack. So when words aren't enough, gift them our Forever Grateful 2012 chocolate hamper to say the rest.  
Spoil your favourite healthcare heroes with a gourmet selection of our chocolatier's favourite fruity, nutty and caramel pralines. With little bites for all, there's a selection for the entire team to say thanks for their care. Don't forget to add a finishing touch with a personalised thank you sleeve, a special note to show your gratitude.
Worked with a colleague on a big project, or has your boss been extra sweet lately? Our Thank You gift hamper is the perfect gesture of heartfelt thanks. Filled to the brim with sweet goodies to nibble and warm the soul like our decadent hot cocoa powder and in-between praline bites, this hamper is perfectly finished with a thank you sleeve. Our Thank You  Hamper says it all with some of our favourite Koko Black treats.
The perfect thank you gift for men, her, or anyone! From Strawberry Gum Passion to Salted Macadamia Caramel, our magic makers have created this
Australian Native Collection
gift box
so you can gift the taste of our place. An ingenious selection of Australian Native flavoured pralines to gift to business clients, friends or to say 'thanks for having me'.
If you're not sure what the best way to say thank you is or maybe not as close to the person, a
Koko Black gift voucher
is a perfect gift to say thank you.  Our digital E-vouchers can be sent directly to them, so they can shop online or in-store and find themselves the perfect chocolate delight. From $25 to $100, give the gift of Koko with ease and let them know how grateful you are