Koko Black's Collaboration with Australian Baijiu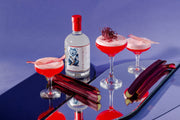 Baijiu 白酒 (pronounced "bye-joe" and meaning "white spirit" in Mandarin) has been made in China for over 500 years. It is the national drink of China savoured over a good meal with friends or on special occasions, and the world's bestselling spirit. Over 15 billion liters of baijiu produced every year - more than vodka, gin, rum and tequila combined. That's the spirit!

While respecting Chinese traditional baijiu distilling process, Good Spirits Co. has put an Australian spin on the world's most popular spirit. Their baijiu is influenced by the Chinese baijiu tradition and recipe but made with love in Victoria using local premium ingredients and rich spirit-making traditions. 
We have paired this beautiful drink with our handcrafted chocolates, just in time for Lunar New Year
WHAT IS BAIJIU?
Baijiu (in Chinese 白酒) simply translates to English as "white liquor" and is often pronounced as "bye-joe". Baijiu is commonly distilled from Sorghum, however may also include other raw materials such as; Wheat, Rice, Barley, Millet and Corn.
Originating from China and being the nations choice of liquor, the production style of Chinese Baijiu varies significantly by province and region. Just like Scotch Whisky, it can be distinctive as Speyside Whisky that is to Islay Whisky renown for their smoky peaty characteristics.
Baijiu is reported to be the most consumed alcoholic liquor / beverage in the world. In 2018, a staggering 10.8 litres was produced and sold making it more popular than whisky, vodka, gin and tequila combined (Froissart & Martin, 2019). When compared to other spirits, Baijiu is a different type of alcohol altogether and within a class of its own. Baijiu is not as mainstream like whisky or vodka, however its accentuating taste and popularity is gaining traction across the World and captivating strong interest from liquor connoisseurs alike. With all that being said, Baijiu may soon be poised to take over the world! (or already has?).
100% AUSTRALIAN MADE
Just like our chocolates, the Good Spirits Co. is made usuing locally grown ingredients: sorghum as the main grain, wheat and barley in smaller quantities.
"We have put an Australian spin on the world's most popular drink", says Varvara Kuraeva. "Our baijiu sits between the traditional style and something that might also appeal to Australian and global markets. We specifically worked on achieving a smooth flavour with clean, natural and citrusy aromas and a dash of soft sweetness that leaves a smooth lingering aftertaste".
"At a time when consumers are thinking more about what goes into making a product than ever before, we are proud to say that the whole production and packaging process of our baijiu takes place in Australia," says Artem Zubenko. Being avid supporters of local businesses, the Good Spirits Co team sources labels, bottles, screw caps, boxes, marketing materials and other creative elements that go into making their baijiu from local companies and family businesses.
WHY CHOOSE AUSTRALIAN BAIJIU?
Multi-award-winning, Australian-made baijiu 


Lovingly produced by one of Australia's leading craft distilleries (true guru!)


Premium and GMO-free local ingredients


Distilled to perfection from finest Australian sorghum, barley and wheat


NO artificial flavours or additives


Created using environmentally sustainable practices


Made with clean, pure Australian water


Smooth, funky and citrusy with a dash of soft sweetness. Gānbēi! Chin-Chin! Salute!
YEAR OF THE RABBIT CELEBRATION BAIJIU HAMPER 
This beautifully presented selection brings together good fortune with exceptional taste. The perfect gift for those wanting to celebrate in style. 
This Baijiu x Koko Black hamper is filled to the brim with natural goodness and traditional treats. The Matcha notes and Mango Yoghurt Bites accentuate the complex undertones of Good Spirit Co's Baijiu.
Handcrafted with 100% natural ingredients, no artificial colours, flavours or preservatives, supporting 100% sustainably sourced cocoa.
Good Spirits Co. Australian Baijiu has "clean, citrusy, fresh aromas, a little soft sweetness on the tongue, then finishing with some of the savoury, yeasty qū character." (Max Allen, The AFR). To read the full article, visit The Australian Financial Review.
OUR FAVOURITE LUNAR NEW YEAR GIFT IDEAS
Chocolatier's Selection 
Praline Gift Box | 25 Piece
Commemorate the Year of the Rabbit with something tasty for all with the Koko Black Lunar New Year Praline 25 piece Gift Box. Koko's most loved pralines, featuring a mix of white, milk, and dark chocolate flavours, are included in this 25-piece gift box. The elegant crimson and gold wrapping that adorns each praline adds to the joyful mood of the Lunar New Year. This gift box is a classy and delectable way to wish your loved ones a prosperous and lucky Lunar New Year.
Spring Festival Hamper
Celebrate fresh starts during the Spring Festival by choosing the Koko Black Spring Festival Hamper. A bottle of the finest champagne, Veuve Clicquot, is included in this exclusive hamper along with several of your favourite Koko Black's artisan chocolates. During the Spring Festival, this hamper makes the perfect gift to spoil your loved ones and enjoy the crunch of roasted macadamias and caramalised coconut. Bring in the new year with luck and prosperity with our Spring Festival Hamper now.
Celebration Hamper
Delight your entire family and celebrate the 2023 Lunar New Year in style with our Celebration Hamper. The perfect occasion gift to make even the most rigid flavour connoisseur grin with happiness and delight. Containing all your favourite pralines, such as our Matcha Mango and Chilli and Dark Hazelnut and the very decadent Veuve Clicquot champagne, let your guests pick and peruse at their leisure. Discover your new favourite flavour and treat yourself with our luxury, limited edition Celebration Hamper.
DISCOVER MORE OF OUR LUNAR NEW YEAR COLLECTION