Easter Baking & Handcrafted Recipes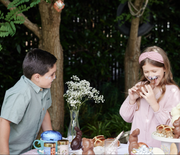 Find a basketful of Koko's best Easter baking and handcrafted recipes perfect for your festive table! Surprise and delight your guests with warm and gooey Chocolate Orange Babka; a decadent and delicious Easter Grazing platter topped with bouncing bunnies and eggs; creamy couverture eggs filled with Salted Caramel, Irish Liquor and Lemon Cheesecake Crème. Or step down the rabbit hole and rediscover Koko Classics with create with the littles like our Egg Pop Cupcakes and Hot Cross Bun Cheesecake.
Our Chocolate Orange Babka features spectacular twists of zesty bread, rippled with dark Koko chocolate. Best served warm, this recipe will warm any bunny's heart this Easter.


Step aside cheese and charcuterie boards, there's a new treat in town! Perfect for delicious and delightful entertaining, this degustation is the ultimate addition to your Easter feast. Dot your favourite desserts, eggs, bites and bunnies and top with fresh fruit for an egg-stravagant Easter afternoon.


For an easy and adorable Easter recipe to add to your holiday line up, you can't go past Koko's Filled Chocolate Eggs.
This trio of Lemon Cheesecake Cream, Dulce de Leche with flecks of sea salt and Irish Cream Liquor with Chocolate Mousse will be the star of your festive table



Get busy in the kitchen with the kids over the school holidays with this fun recipe! White chocolate cupcakes with a sweet buttercream, then topped with a nest of Persian fairy floss and Koko Egg Pops. The ultimate treat for an afternoon of fun!



For a Koko Black take on an Easter classic, you can't go past our Hot Cross Bun Cheesecake. If you love Cheesecake and Hot Cross buns we've created a recipe with both! Topped with a smooth ganache using Koko Black's White Chocolate and decorated with Koko Bites - it will be the star of any dinner party



For an adults only cocktail treat, our Boozy Bunnies are the best way to enjoy what Melbourne has to offer. Hippity hop into a Koko Bunny cocktail, filled with an Espresso Martini straight from Melbourne Martini. A grown-up Easter treat designed to spoil; simply bite, pour and sip to enjoy!