What to bring to a dinner party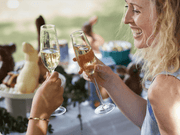 Why is gifting a host or hostess a dying art? Proper host and guest etiquette might seem old-fashioned, but it plays an essential role in any gathering. After all, your hostess has spent time and effort striving to create a memorable dinner party. 
Even if it's as simple as falling back on the old favourites of wine, chocolates or flowers, the hosts will appreciate any gift presented with grace and gratitude.
Whether you're attending a formal dinner party or just stopping by for drinks with friends, remembering to bring a thoughtful and appropriate hostess gift will make sure that you start off on good terms with your hosts every time.
At Koko Black, we think our handcrafted gifts make picking good hostess gifts easy. Knowing your present will impress makes offering it with pleasure and pride a whole lot more fun. So, we're here to share our advice and some guidelines for not turning up empty handed.
What should I bring?!
Koko Black​​
Not to worry, we have a perfectly planned collection of gifts and hampers perfect for any occasion. Good gifts for the host of the party differ from other occasions in that they are generally not overly personal items. By definition, a hostess gift is something they can use for entertaining on the day itself or for a future event. You're looking for a gift that will show how happy you are to be invited and is also practical and unique. A simple and inexpensive thank you hamper can be the perfect way to say, 'thanks for having me'.
What To Bring As A Gift To A Dinner Party?
Gifts are an important part of dinner party etiquette, and choosing the right gift can make all the difference in setting the right tone for your interaction with your host. There are several different factors to consider when choosing the perfect hostess gift. It should take in to consideration their individual tastes and preferences.
If you're searching for something extra special to say 'thanks for having me', then browse Koko Black's collection of indulgent gifts. There are ideas for what to bring to a casual dinner party and holiday hostess gifts that will show them how much you enjoyed your stay. For more formal dinners or special occasions, you'll find impressive luxury hostess gifts with sparkling champagne and extravagant little treats. There's no better way to show your appreciation for all their hard work and glorious food!
Discover our range of Dinner Party Gifts