Celebrating the Mid-Autumn Festival with Koko Black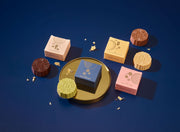 At a time where gifts are an extension of yourself, there is no better choice than a Koko Black mooncake lantern to create a memorable moment at this year's Mid Autumn Festival.

On the 15th Day of the 8th Lunar month, when the moon is at its brightest in the year, comes a special time to celebrate the harvest season. Since its origin as the moon worship ceremony in the Zhou dynasty before 1000 BC, the Mid-Autumn Festival has been a day for friends and family to come together and pray for longevity and good fortune. As the holiday falls on the day of the full moon, it makes rooftops a great place to spend the evenings and share special foods.
Mooncakes – a traditional gift evolving.
At Koko Black, we are all about celebrating with loved ones in style and uplifting every such rare occasions to new heights with incredible artisan chocolate gifts. As we like contemporising our traditions, we couldn't resist becoming part of the mind-blowing repertoire of mooncakes exchanged since the dawn of time. As the roundness of the moon symbolizes completeness and togetherness, the mooncake has been the perfect gift and the embodiment of this yearly celebration for over 3000 years.
Did you know that all regions of China have their own styles of Mooncakes?
From the ice skins of Hong Kong to the sweet and salty Cantonese specialties and through a hundred creative variations, the tradition has continued to evolve into an explosion of flavors, a literal food firework intrinsic to this family celebration.
Koko Black's Chocolatiers couldn't resist to bring their contemporary flair to this icon and have created four masterful chocolate mooncakes to indulge in. If you are looking for a stand out gift idea, you must let your inner foodie loose at these flavours. Available online and in-store soon.
Coconut and Pandan

Smooth and sweet pandan infused coconut ganache, with a chewy coconut macaroon biscuit, encased in 54% dark chocolate.

 

Crispy Almond and Caramel

Velvety vanilla caramel with a crunchy almond praline layer, encased in milk chocolate.

 

Matcha and Red Bean - Savoury red bean ganache with a matcha shortbread biscuit, encased in matcha white chocolate.

 

Cherry Pistachio - Sour cherry jelly with a crunchy pistachio praline encased in caramelised white chocolate.
The key to a great gift is also the unboxing experience.
It wouldn't be a Koko black gift, if not presented in a mesmerising gift box. This year, not only have we designed a stunning set of chocolate boxes to delicately present our single mooncakes, we have also brought to life a whole new collection of 4 and 8 pieces.
Available in limited quantities, be first in to enjoy this unforgettable chocolate.
Our 2023 Mooncakes have arrived!
Purchase here