How Koko Black Creates our Australian Flavours?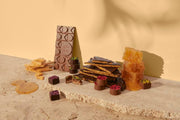 All Natural. All Australian.
Intrinsically linked to the natural flavours of Australia, we experiment with the best our land has to offer and layer them on a background of the finest couverture. 
From the rugged landscape of the Northern Territory, where we sustainably harvest local Green Ants, to the Eastern Seaboard where you can delve into the brightest local Davidson Plums – the Australian terrain offers a smorgasbord of indulgent delights waiting to be discovered. 
We invite you into the world of Australian Native Chocolate – the way we know best.
This collection is chocolate reimagined. Break through beautiful and bold chocolate to reveal unique and unusual flavour combinations – a symphony of senses that are heightened beyond measured. A true celebration of the Indigenous flavours our First Nations people have been savouring for millennia. 
Our chocolatier's searched far and wide, to rediscover the tastes of home. Along their journeys they gained knowledge of the healing properties and benefits of this naturally sourced goodness. Pairing these wild fruits, nuts, ants, seeds, and botanicals with the finest chocolate, we are careful to preserve their goodness. We have gotten the balance just right, so you can enjoy the truest taste of our place.
Taste the flavours of Australia
Davidson Plum
Hailing from the East Coast of Australia, the Davidson Plum is one of the most nutritionally powerful of our native fruits. Packed full of potassium, zinc, folate and antioxidants, this superfood packs health in every bite.
Featuring an earthy aroma and exquisitely sour taste they pair beautifully with a rich, fruity dark chocolate. Our artisans have highlighted the bright bold pops of the Davidson Plum with rich Sao Thome 70% Chocolate to bring you a vegan-friendly, plant based, after dinner treat in our Davidson Plum Block. Or enjoy a tangy, tingly plum jelly encased in rich dark chocolate – a brilliant feature of our Native Praline Gift Box.
Green Ant
Sustainably sourced throughout one of the six Indigenous seasons (indicated by the weather and which plants and animals are plentiful in the region), green ants have formed part of the First Nation's diet for centuries.
For a bite that dances across the palate, our Green Ant and Finger Lime Praline is not to be missed. We begin with a layer of burnt butter ganache, topped with finger lime jelly. As the creamy milk chocolate casing melts away pops of Green Ant burst in the mouth for a truly exquisite Australian take on lemon meringue. Exclusive to our Native Praline Giftbox, online and instore.
Macadamia
Hailing from Far northern New South Wales and South-eastern Queensland, this nut is uniquely native to Australia and is a star of Koko's crown. Full of good unsaturated fats and healthy oils, macadamias are known for maintaining cholesterol levels and their omega 3 fatty acids. They are also teeming with antioxidants- receiving the Heart Foundation's tick of approval, magnesium, B vitamins and iron; did we need an excuse for more chocolately macadamia goodness?
The queen of Koko's collection, we feature the macadamia nut in bounties. You can find them smothered in the darkest of couverture and dusted in powdered raspberry, blitzed with caramel and 39% single origin chocolate for a crunchy praline in our Native Giftbox and dotted throughout our Macadamia & Spotted Gum Honey Block.
For a truly remarkable tale of the tastes of Australia, be sure to indulge in our Native Praline Gift Box. Take home a selection of our favourite flavours of our land, a delightful blend of Australian chocolate.