Koko Black x Australian Gin Distillers Collection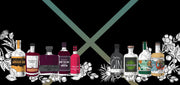 Meet our makers of fine purveyors of flavour
At Koko Black, we love working with Australia's most talented purveyors of flavour – whichever form that takes.  Our latest series of collaborations takes flavour savours on a journey across our great nation, bringing with it a taste of our place.  So we're proud to unveil our Australian Gin Distiller's Collection: nine inspired hampers, presenting a celebration of  premium local gin distillers from across Australia, reflecting their local, native or experimental flavours. Each gin from the Australian Distillers Collection has  been selected to pair with a beautifully curated collection of premium Koko Black Chocolate.
HISTORY OF THE COLLABORATION
Our partnership with premium Australian flavour purveyors started in 2018, when we worked with some of Australia's leading distillers: Four Pillars, Starward, The Rum Diary and Melbourne Moonshine  to develop some boozy Koko bites in the way of Apple Pie Moonshine, Vanilla Spiced Rum, Single Origin Dark Whisky and Lemon Myrtle Gin.  Today, we continue this tradition by collaborating with nine premium local gin distillers from across Australia, celebrating local produce, native botanicals and provocative flavours.
This celebration of Australian flavours makes for the ultimate gift, for any reason and any season.  Beautifully packaged in our Koko hamper boxes, and a stunning sleeve for a final flourish of luxury- this collection of hampers is dressed to impress.  They are the perfect gift to delight anyone who appreciates the finer things – designed to be nibbled, sipped and savoured.
OUR NINE GIN DISTILLERS
REED & CO
A hint of honey, and the dash of yuzu in Reed & Co's Gin & Juice beautifully partner with Koko's Australian Honey Collection and tropical white chocolate delights.
Symphonies of fruity flavours pair perfectly for an evening of smooth sips and tantalizing treats.  


ARCHIE ROSE
Sunrise Lime Gin packs a zesty punch, and we coupled it with the ultimate curation of Koko's fruitiest and juiciest treats.
We've carefully paired this gin with a curated collection of premium Koko Black chocolate to please the palate and intrigue the imagination. 


WOLF LANE
Tart, plummy flavours dance across the palate in our collaboration with Wolf Lane Distillery.
Koko Classics like Jam Wagons and our Rocky Rogue accentuate the Davidson Plum Gin for the ultimate afternoon delight. 


PATIENT WOLF
A fruity, nutty array of delights awaits you in our partnership with Patient Wolf. Blackthorn Gin couples with an assortment of our favourite milk pralines, and zesty Orange Dotties.
We've topped off this decadence with Wattleseed Macadamias for a creamy, dreamy collection from Melbourne's finest.


GINIVERSITY
 Hemp Gin compliments the nutty and zesty selection of Koko's finest array of decadent dark chocolates pairing sweetly with a warm after-taste that makes a Friday night in sound like a treat.
Add a crunch from our Tasmanian Leatherwood Honeycomb, and a twist of orange for the perfect evening in.


HARTSHORN
A distinctively Australian botanical flavour runs throughout our partnership with Hartshorn.
We've paired a number of our native nibbles with their uniquely Tasmanian Sheeps Whey Gin - best enjoyed neat (hold the tonic). 


FOUR PILLARS
Anticipate an alchemy of dark and fruity flavours in this coupling with Four Pillars.
We've partnered their Bloody Shiraz Gin with a gourmet assortment of our favourite dark delights - the ultimate palate pleaser! 


PROHIBITION
A dark & fruity selection of Koko's favourite chocolates match perfectly with Prohibition's Moonlight Gin for an evening of decadence.
We've paid homage to the bouquet of red and floral flavours in this gin with classics like Koko Vovos, Very Cherry Coconut Drops and Rocky Rogue. 


LARRIKIN
We've partnered with Larrikin Gin to bring you a dark and zesty celebration of native Australian flavours. Find Australian botanicals like Lemon Myrtle, making this collaboration the purest of palate pleasures